There aren't all that many films from the 1930s that have significant commercial value in today's market. Disney has one of the biggest in Snow White and the Seven Dwarfs, which seems up there with perennial favorites The Wizard of Oz and Gone with the Wind. The studio also has many of the shortest in its animated short films featuring still beloved cartoon personalities Mickey Mouse, Donald Duck, Goofy, Pluto, and others. If not for the Copyright Term Extension Act of 1998, the earliest work of Mickey and friends would have been entering the public domain in recent years.

Instead, under the legislation (commonly referred to as the Sonny Bono Act), Disney retains exclusive rights to cartoons for 95 years, keeping Mickey et al. in their exclusive possession through at least 2023.

Though displaying caution in regard to almost every area of its home video library, Disney hasn't been shy about putting more Mickey and friends on the market, whether it's episodes of current Playhouse Disney production "Mickey Mouse Clubhouse" or the vintage original cartoons themselves. Released to stores last week, the Have a Laugh! line gives us classic public domain-evading short films in both new, shorter edits (that began airing on Disney Channel fall 2009) and their unedited original forms. That design seems like a way to appease Mickey's most passionate fans while potentially appealing to the many folks who have never paid them much attention. If cutting scenes and re-recording dialogue and sound effects on 70-year-old films can be considered "potentially appealing" in any way.

With just five shorts presented in two ways, though, Volume 2 isn't likely to completely satisfy anyone, whether you prefer the original classics or their newly-abridged cuts. The newly-abridged cuts seem pretty extreme and pointless as they trim 7-9 minute shorts down to under 3 minutes. They might as well include an ADHD brochure with the DVD. Besides the original and newly-shortened versions of shorts, the disc contains two other types of new arrangements of classic cartoons that also air on Disney Channel under the same "Have a Laugh" banner to be discussed in a little bit.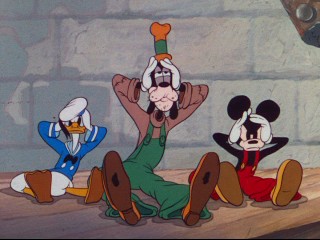 Every one of Disney's four most employed characters gets a turn in the spotlight here, with Minnie Mouse, Pete, and Figaro also making appearances. Well, looky what we have here...

1. Clock Cleaners (1937) (8:28 / 2:47)
Mickey Mouse, Donald Duck, and Goofy clean a clock tower, with each encountering a comic obstacle

(sleepy stork, back-talking spring, and metallic bell ringers).

It's worth noting that this DVD's presentation improves of Clock Cleaners upon that of the 2001 Walt Disney Treasures tin Mickey Mouse in Living Color in two small ways. It undoes the strange bit of self-censorship applied that turned Donald's "Says who?" (evidently mistaken for a different two-syllable, two-word phrase) into "Aw shucks" (complete with random dog barking and the spring's then non-sensical reply "Says I") and muddled his subsequent insult. It also restores the original studio and title card replaced by more modern ones. This DVD besting a Treasures set in any way is unexpected to say the least.

2. Mr. Mouse Takes a Trip (1940) (7:42 / 2:46)
A vacationing Mickey tries sneaking Pluto onto a dog-free train, to conductor Pete's disapproval. This is one of Mickey's funniest shorts.

3. The Art of Skiing (1941) (7:53 / 3:01)
Goofy demonstrates while a narrator describes the ins and outs of skiing from attire to technique.

4. Early to Bed (1941) (7:46 / 2:46)
Donald Duck has trouble falling asleep with no shortage of noises and bed issues keeping him up.

5. Pluto's Sweater (1949) (6:48 / 2:47)
Minnie Mouse knits a sweater for Pluto, who wants nothing to do with it. Forced to wear it outside, the pooch swiftly takes efforts to rid himself of it, which he discovers is quite the challenge.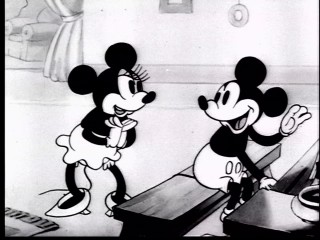 Then we come to three tastes of "the ultimate thrill ride through the world of Disney", i.e. the unsavory "BLAM!" These 90-second bits take classic shorts and add editing effects, the world's most obnoxious commentary, and a liberal use of the exclamation "BLAM!" The only way to enjoy these is for their sheer awfulness. And believe it or not, it's quite easy to admire them in such a misanthropic way. Given the "BLAM!" treatment here are The Art of Skiing in "Skiing 2", Goofy's part of Polar Trappers in "Arctic Adventure", and Clock Cleaners in "Clock Cleaning."
You can find a bunch of these on YouTube (along with a humorous parody believably applying the shocking treatment to Up). But should those uploads ever disappear, let me give you two fine morsels of the unconscionable play-by-play heard here: "O say can you BLAM!" and "You know what they say; if the shoe fits, wear it... on your face."
Last but not least is a 2-minute "Re-Micks" video, which sets clips from the 1933 black and white Mickey and Minnie short Puppy Love to the rhythms of Hannah Montana's "He Could Be the One." Reminiscent of the "D-TV" bits found on the early days of The Disney Channel, this concept is easier to swallow when it's using pop songs that didn't emanate from within Disney's tween icon factory. Even so, among the disc's new creations, this is the easiest to understand and like.
VIDEO and AUDIO

The cartoons look pretty terrific, especially considering their age. I doubt major work has gone into restoring the shorts for the DVD or for the shortened versions, but no greater effort than this was needed to provide sharp, clean, colorful visuals and satisfactory sound.

Unlike Volume 1, which I now assume to be erroneously encoded, the updated edits of shorts here are presented in Dolby Digital 5.1 surround. That makes a big difference and goes a long way to explain why the soundtracks have been re-recorded for this series. Everything appears in the 1.33:1 aspect ratio (approximating original framing) and the original versions are heard in two-channel Mono sound.

BONUS FEATURES, MENUS and PACKAGING

The DVD opens with ads for Disney Blu-ray, Bambi: Diamond Edition, Tangled, and Phineas and Ferb: A Very Perry Christmas. The Sneak Peeks listing runs additional promos for Disney Movie Rewards, Genuine Disney Treasure, Disney Parks, The Lion King: Diamond Edition, Toy Story 3, A Christmas Carol, and Fantasia & Fantasia 2000: 2-Movie Collection.

That is the extent of bonus features, aside from an "Improve Your View" section holding Disney's ubiquitous "Dylan & Cole Sprouse: Blu-ray is Suite!" and "Learn How to Take Your Favorite Movies on the Go" promotional spots.

The main menu offers animated rectangular fragments of Mickey Mouse while classic sounding score plays. Also scored, the submenus give us a static but diversified version of that theme.

The DVD includes a fancy holographic slipcover, a Disney Movie Rewards code insert, and a booklet promoting Blu-ray 3D and combo packs.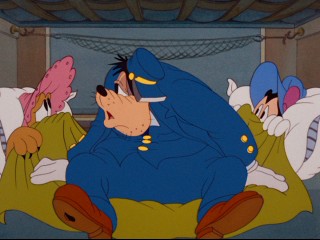 CLOSING THOUGHTS
Have a Laugh! Volume 2 applies its curious treatment to a pretty great quintet of shorts, lopping about 5 minutes off each. While I understand why many have preferred variety to value and purchased Disney's low-priced 1-hour cartoon servings instead of the fancy Walt Disney Treasures, it's tough to imagine that anyone would want to pay $15 or so for just five classic animated shorts both in their original form and cut in half. Watching the alternate presentations back-to-back, as "Play All" provides, underscores the mystery of this line. It seems like you'd want one or the other, not both, and if you want just the Disney Channel remixes, you probably don't respect the animation enough to want to own it. Even set to a Hannah Montana song, the "Re-Micks" idea is kind of appealing, while "Blam!" is nothing less than an affront. All of it doesn't add up to much and certainly not the asking price. Based on the low Amazon sales ranks and customer dissatisfaction there, I'd be surprised if this line continues on DVD, even if it sticks around on cable.