For fifty years, the wit and wisdom of Charles Schulz livened up newspapers in America and often worldwide with the syndicated comic strip Peanuts. You needn't have found the funnies all that funny, however, to encounter and enjoy Schulz's iconic characters.

The melancholic and curiously bald Charlie Brown, his effervescent dog Snoopy, and companions like the advice-dispatching Lucy and blanket-wielding Linus have long been etched into the global consciousness through books, toys, clothing, TV shows, theme parks, stage shows, commercials, and a handful of feature films.

Aside from the daily comic strip (past episodes of which continue to run in some of today's papers with a "classic" designation), the gang is arguably best known from their animated TV specials, beginning with 1965's beloved A Charlie Brown Christmas and continuing on a regular basis through the mid-1990s. Since Schulz's eerily-timed death in February 2000 (which occurred in between a Friday night tribute on CBS and the publication of the final Peanuts strip on Sunday), his closest colleagues on the specials, former animator Bill Melendez and producer Lee Mendelson, have overseen a handful of new half-hour creations. But as is often the case when it comes to the work of a celebrated genius, the public hasn't been especially receptive to the posthumous Peanuts, preferring instead to look back at the many Schulz-led cartoons that delighted over the years.
Whether it is a seasonal TV airing indicating that a certain holiday is upon us or merely the remarkably knowing words uttered from the mouths of child characters, the Peanuts specials have proved able to entertain many an adult, regardless of if they're animation aficionados or otherwise dismissive of cartoons. While the regular broadcasts on CBS (now ABC) have surely helped keep Charlie Brown and company in our minds, the specials themselves deserve credit for the substance that continues to sustain. Utterly simple visuals, humor that lends itself more to a comfortable smile than a guffaw, and narratives that unfold with the uncertainty of an overtold tall tale shouldn't add up to something uplifting and unforgettable. But they do. Only a rare cold soul and the unfortunately unacquainted would deny that the best animated Peanuts productions rank among the most wonderful and heartfelt works television has ever given us.
Admittedly, not everything Peanuts is golden. The most accessible stuff tends to be good to outstanding. But a significant majority of the Schulz TV specials and series are out of print on video, out of circulation on TV, and never released on DVD. That last medium, where television programming has taken on new levels of importance and availability, is the one where Peanuts cartoons should be flourishing. But Paramount Home Entertainment, the longtime distributor of United Feature Syndicate's collective Peanuts programs, never seemed especially confident or comfortable with the catalog. After a quartet of discs issued in 2000, the studio mostly sat on its holdings, releasing a limited number of Peanuts DVDs, much of it the undesired contemporary stuff and none of it in sets that showed much respect to either the material or the fans.
A quiet transaction that occurred last October gave those fans reason to hope that better treatment was afoot for the Peanuts gang. Warner Home Video acquired the full Peanuts library and excitedly announced plans for new direct-to-video movies and, more importantly, DVD releases of the entire canon. Wasting no time, Warner's first Peanuts DVD came in January holding Be My Valentine, Charlie Brown and a pair of thematically related specials. Following the calendar with an ordinary month of pre-holiday advance, Warner now gives us It's the Easter Beagle, Charlie Brown in a Remastered Deluxe Edition that's much in the same mold.
Like Valentine, this new version of Easter Beagle can easily be compared to a similarly-released package issued five years earlier by Paramount. On that disc, Easter Beagle claimed the title on the cover while a lesser-known special on a less-celebrated holiday, It's Arbor Day, Charlie Brown was designated as a bonus feature.

That's again the case here, although the packaging suggests upgrade potential what with its snazzy uniform artwork, claim of "Newly Remastered... to be as bright and shiny as the prettiest Easter Egg", and listing of an all-new featurette, which we later learn runs more than half as long as your typical half-hour Peanuts special sans commercials.

It's the Easter Beagle, Charlie Brown (25:01) (First aired April 9, 1974)

In what's acknowledged as sounding "faintly familiar" to the Great Pumpkin fiasco, Linus puts all his faith in the Easter Beagle who supposedly will show up on Easter Sunday bearing colored eggs. The others are skeptical, including Marcie and Peppermint Patty, whose egg-dyeing activity is repeatedly delayed by Marcie incorrectly preparing the eggs. Meanwhile, after spring rains destroy Woodstock's nest, Snoopy helps him get a new home... and then creates the need for another. In the most memorable stretch, the entire gang heads to a big department store for some shopping (Sally wants shoes) and is surprised to see Christmas sales abound.

It's Arbor Day, Charlie Brown (25:04) (First aired March 16, 1976)

Upon learning about Arbor Day, Sally, Linus, Lucy and friends are inspired to plant a number of trees and flowers. They select Charlie Brown's baseball field as the garden site, as it would happen, on the eve of the first game of the new season. The game, against Peppermint Patty's team, goes on as planned and needless to say, the botanical field makes things more interesting than usual.
| | |
| --- | --- |
| | |
| Screencap from Paramount's 2003 Easter Beagle DVD | The same frame on Warner's Remastered Deluxe Edition |
The framing differs a little and the colors quite a bit more, but Warner's sharper transfer looks like the clear winner.

VIDEO and AUDIO

Rather than tinker in the name of technology, Warner gives us the two specials as they originally aired, in 1.33:1 fullscreen and monaural sound. Those are the same specs Paramount gave this compilation,

although per tradition they encoded the Dolby Digital Mono audio in the two front channels whereas Warner employs just the one center speaker.

Picture quality looks quite terrific on Easter Beagle, as the simple visuals are extremely clean, consistent, sharp, and plenty vibrant. There's also life to the soundtrack, which while revealing its age in design, does not disappoint in fidelity. Both picture and sound are a few notches lower on Arbor Day, which has more of the rare artifacts, the occasional speckle in white areas, and slightly stuffy audio.

Compared to Paramount's DVD, the colors here are more contained, accurate, and pleasing. The video is much sharper and the soundtrack also seems a little crisper. Improvement on Arbor Day is a little milder, but certainly still noticeable even on a modest-sized television.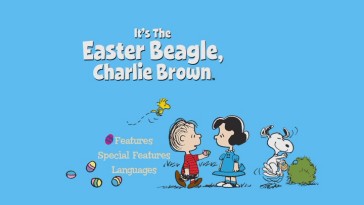 BONUS FEATURES, MENUS, DESIGN and PACKAGING

Designated as a Special Feature in the menus and on the case is "In Full Bloom: The Peanuts at Easter" (15:30), a brand new featurette composed of comic strip glimpses, show clips, and, most substantially, interview comments. The six speakers are producer Lee Mendelson, Schulz's widow Jean and son Craig, cartoonists Stephan Pastis (Pearls Before Swine) and Cathy Guisewite (Cathy), and author Phil Cousineau.

It's evident that the interviews were conducted to form a grand pool of supplemental content for the entire series, and so certain topics either don't apply or aren't specific to Beagle. For instance, a discussion of Schulz's Christian beliefs hardly seems relevant based on how non-religious the Easter special is.

Considerable time is, however, devoted to the disc's title special. While a bit disorganized, this still makes for a nice companion piece.

Playing at disc insertion are a preview for the Remastered Deluxe Editions of Be My Valentine, Charlie Brown and It's the Easter Beagle and one for Pop Go the Wiggles!. A Trailers page holds additional promos for "The Smurfs": Season One, Vol. 1, Dr. Seuss' Horton Hears a Who: Deluxe Edition, "A Pup Named Scooby-Doo": The Complete First Season, and Tom and Jerry Tales, Volume 4.

Predictably, the menus are pastel-colored still screens. All are silent except for the main menu, which plays the famous "Linus & Lucy" piano theme more loudly than needed. Though not given scene menus, each special is divided into 5 chapter stops and a "Play All" listing is happily provided. There's nothing inside the standard black keepcase. It comes housed in a cardboard slipcover that reproduces the inner artwork but with substantial embossing and a nifty reflective appearance on both sides.
CLOSING THOUGHTS
At its initial pricing, Warner's Remastered Deluxe Edition of It's the Easter Beagle, Charlie Brown feels a few dollars high to recommend an instant purchase or upgrade. Still, it provides clear improvement over Paramount's DVD in picture, sound, packaging, and bonus features. So if you thought that disc was good enough to own, you'll probably want to replace it with this one somewhere down the line. There are better Peanuts specials and I anticipate they'll get even better DVD treatment from Warner, but the charming Easter Beagle and less memorable Arbor Day are both quite fine and worth having in any Peanuts, animation, or half-hour TV specials collection.