Review by Jason Seiver

Before starting this review, I hadn't seen Dumbo in 7 years. I remember distinctly watching it a lot on VHS as a young child. Once I got older, I had begun to view it as "kiddie fare", and wasn't long after that when I began to dismiss Disney films altogether. Although I've since become the biggest Disney fan I ever have been,

I've ignored Dumbo for quite a while. Frankly, after having seen it again recently, I could kick myself for not having re-discovered it sooner.

Everything about the movie is simpler than the three animated films that came before it. The story revolves around a little elephant who's an outcast trying to reunite with his mother. The animation and backgrounds are a noticeable step down from the intense detail of Snow White, Pinocchio, and Fantasia. However, that's a big part of its charm - it feels like something devised from a child's uncluttered mind and is realized without any complications.

There are many touching moments - specifically a heartbreaking scene where Dumbo goes to visit his caged mother. The emotion from these parts is so admirable, as there is no dialogue. It's just power coming from the pure animation. I found it astounding.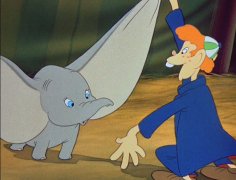 In addition, there's an incredibly abstract, bizarre segment called "Pink Elephants on Parade" that made my jaw drop. I really can't find words to describe it, other than I think it's one of the best movie sequences in history. Unfortunately, I think it affects the pacing of Dumbo negatively, and breaks the straight-forward, smooth telling of the story. But it's hard for me to find fault with that, as it's such an incredible piece to watch.
I'd like to take this opportunity to bring out a side point relating to the movie. In Dumbo, there is a group of crow characters who are obvious stereotypes of African-Americans. However, Disney allows the film to be on the market, while they keep Song of the South in their vault. Maybe it's just me, but it seems like the incident in Dumbo (and Peter Pan, for that matter) has more potential to offend someone than anything in Song of the South. I think it's a double standard that should be corrected by releasing Song on DVD once and for all. Really, each of the aforementioned examples does not portray anyone in a negative light, but rather a positive one. They all deserve to be available to the public. (Rant over.)
To sum it up, I went into viewing Dumbo with a bit of a cynical attitude. I ended the film feeling deeply moved by the whole experience . . . and I'll admit that it made me want to go give my mom a big hug afterwards. As I said earlier, I feel horrible for having ignored this little jewel for so long. It's a brief, but very satisfying movie that works on all levels. Its definitely found its place near the top of my 10 favorite animated classics.
Released in October 2001, Dumbo arrives for the first time on DVD in a single-disc "60th Anniversary Edition". It comes in a standard, white, amaray keepcase, including a coupon book for other Disney merchandise, and a one-page insert with listings of the chapters and bonus materials.
DVD Details

1.33:1 Original Aspect Ratio (Fullscreen)
Dolby Digital 5.1 (English)
Dolby Surround (Spanish, French)
Subtitles: English
Closed Captioned
Release Date: October 23, 2001
Single-sided, dual-layered disc (DVD-9)
Out of Print; Suggested Retail Price: $29.99
White Keepcase
VIDEO and AUDIO

One word comes to mind to describe the video quality of this title: disappointing.

It's presented in its original aspect ratio of approximately 1.33:1, being a grainy transfer. A lot of colors look washed out, and a couple scenes almost look VHS quality. When considering how old the film is, it does look okay. Yet, we all know Disney can do better than this, when comparing it to the exquisite transfers of titles like Snow White and Fantasia. Hopefully in the near future, Dumbo will get the better treatment it deserves.

The audio comes in the form of a Dolby Digital 5.1 remix. I give the sound higher marks than the picture quality, for being clear and having good range for a 60-year-old picture. As expected, it's not very active in the back speakers save for some select moments, and mostly stays in the front. I detected a little bit of quiet hisses and pops during less noisy interludes, but nothing very noticeable. Overall, it's a good mix - although it would've been nice to have the original mono sound as well.
BONUS MATERIALS

The menu takes place in a virtual circus, taking you to different sections for the various menu options. The DVD packaging touts a "'Big Top' full of bonus features."

They must be referring literally to the menu, for there's not a huge selection of supplements. Nonetheless, it contains some great material for a single disc.

An audio commentary is made up of a single person: John Canemaker. This animation historian has been included on Disney commentaries before, though he's most always been in a group of participants. In this case, he offers a plethora of information on the production of Dumbo, talking about the animators' work on the film, and Walt's involvement as well. I was hoping for something along the lines of Snow White's and Fantasia's commentaries, but this one is certainly worthwhile anyway. Props should be given to Canemaker for keeping the ball rolling all by himself and keeping it interesting.

Once again, a new rendition of a classic song makes its appearance on a Disney DVD. This time, Michael Crawford offers a "Baby Mine" music video (2:52), promoting his "Disney Album". He stands amidst a room full of screens showing clips from Dumbo, as he obviously lip-synchs. Similar to Barbra (Like Butta) Streisand's "Some Day My Price Will Come" on the DVD of Snow White, this is a more low-key revamping of a song than the ones directed at teens on other Disney titles.
"Celebrating Dumbo" (14:50) is a featurette containing interviews with film historians Leonard Maltin (who's favorite Disney film is this one), John Canemaker, Rudy Behlmer, and modern-day Disney people like Don Hahn, Andreas Deja, Lisa Keene, Ron Clements, and Roy E. Disney.

Nobody really offers any information on the making of the movie. It's basically a giant love-fest, as everyone is basically there to praise the film. I found it enjoyable, and I agree with many of the statements made here, but I would've rather had a behind-the-scenes program.

"Dumbo Art Gallery" is divided into several sections of thumbnails that can be viewed full screen. Over 160 still-frames are found, composed of concept art, character development, storyboards, and photos of movie-related attractions at theme parks.

"Original Walt Disney TV Introduction" (1:10) is a brief clip from the Disneyland anthology series of Uncle Walt referring to Dumbo as a favorite film at his production studio before taking viewers into the beginning of the movie.

"Sound Design" (5:55) is a segment from the film The Reluctant Dragon, which was made to give audiences a look behind the scenes of the Disney studios in 1941. The clip deals with the recording of sound effects for a cartoon featuring the train character Casey Junior from Dumbo. It's staged, fluffy, and not very realistic, but entertaining.

"Publicity Materials" houses the original 1941 Theatrical Trailer (2:10) and the 1949 Re-Release Trailer (1:10). Ironically, the colors in the second trailer actually look better than many cases in the film's transfer.
"Exclusive Look at Dumbo II" (2:50) is a sugary look at a project that, in my opinion, shouldn't have entered production in the first place. The story is revealed to be about Dumbo and other circus animal children getting lost and trying to find their way back to their parents. Can you say "unneeded sequel"? Apparently, this project is on hiatus. I'm hoping it remains that way.
Two Silly Symphony animated shorts are provided, due to their subject matter relating to the film. "The Flying Mouse" (9:19) is a story about a mouse who makes a wish to grow wings, and later discovers the upside and downside of being able to fly. "Elmer Elephant" (8:29) is about a young elephant being picked on by other jungle animals, until he heroically rescues a young tiger.
The usual features aimed for kids make their appearance. "Dumbo DVD Storybook" tells the tale of Dumbo meeting a kangaroo, and can be read with or without narration. Plus, there are Sing-Along Songs for "Look Out for Mr. Stork" (2:34) and "Casey Junior" (2:32).
Dated Sneak Peeks are presented for: the theatrical release of Return to Never Land, the DVD releases of Mickey's Magical Christmas: Snowed in at the House of Mouse, Cinderella II: Dreams Come True, The Hunchback of Notre Dame II, Whispers: An Elephant's Tale, Peter Pan: Special Edition, The Book of Pooh: Stories From the Heart, Walt Disney Treasures, the "Walt Disney Gold Classic Collection" of DVDs, and "Toon Disney" TV channel.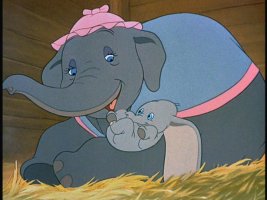 CLOSING THOUGHTS
Dumbo is an enormously emotional and appealing movie that deserves to be a part of everyone's Disney collection. The "60th Anniversary Edition" lacks in video quality, but has acceptable audio and bonus materials. Unless you're a big fan of the movie, I recommend waiting for the rumored 2-Disc release that's possible for the next couple years. If you can't wait, the current edition should hold you over till then.
Buy from Amazon.com Marketplace / Buy Dumbo: Blu-ray + DVD / Blu-ray + DVD Review