By Renata Olson

Having seven film credits under his belt, 5½-year-old Donnie Dunagan was a seasoned Hollywood veteran when he was called to provide the visual model and voice for Disney's famous deer. As it happened, Bambi marked the end of his movie career. That isn't to say he didn't find excitement in life after widening his big brown eyes for Walt Disney's animators.

In fact, he made a name for himself in the United States Marines Corps, having received a number of awards and honors before retiring as Major in 1977. Throughout his decorated military career, he kept his childhood stardom a secret.

Six years ago, we at UltimateDisney.com were granted an interview with Dunagan who, at the time, was just opening up about his experiences working on Walt Disney's beloved fifth animated feature. Since then, he has been very happy to speak to fans and journalists about the early days of animation, an experience that he looks back on with much fondness. Just last week, in anticipation of the film's Diamond Edition Blu-ray debut, Mr. Dunagan took the time to answer some questions as part of a virtual roundtable discussion. Here's how it went...

How did you get cast in Bambi? What did you do before that role?

Donnie Dunagan: No one in my many interviews has asked that bright, joined question. Mr. Disney called my mother in Westwood, California....near UCLA, and told her he would like me to come to the studio and talk about me being the facial model for an animation story of a little deer. My mother was thrilled. Then the two of us laughed about how I would try to look like a deer.

Before this, I had been in the following films, from age 4½: Mother Carey's Chickens, as Peter, 1938; Son of Frankenstein, also as a Peter (von Frankenstein), 1940; Fixer Dugan, 1939; Forgotten Women, 1939; Tower of London, 1939 as Prince Richard; Vigil in the Night, 1940; and Meet the Chump, 1941.

What was your first thought when you were asked to be the voice of a deer?

Donnie Dunagan: My mother and I laughed and tried to understand how even wonderful Disney could put my child face and eyes on a little deer. Soon, we sensed at the studio that it was my eyes and expressions they were interested in.

At the time, as there were not as many cartoons as today, what kind of work did you think you were going to do when you first heard you got the role of young Bambi?

Donnie Dunagan: My mother and I had no idea how animation stories were filmed. I heard the news through media that was published, Mr. Disney had picked me to be the facial model for the deer. Before we got to the studio, Mom and I teased each other about maybe having to put on deer skin and move around on all fours.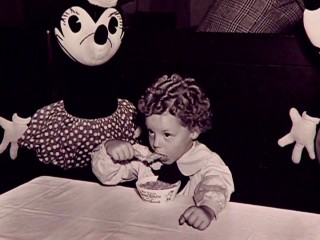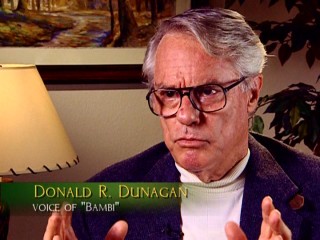 Why were you chosen for the role?

Donnie Dunagan: Mr. Disney had seen me in other films and still photos and wanted to use my eyes and facial expressions to help draw animations on little Bambi.

How was the role of Bambi explained to you originally?

Donnie Dunagan: I remember asking, "What is the storyline of this film?" A nice lady at Disney cured that problem and explained. My mom took me to a zoo to see my first deer.

Who did you work with when you were recording your lines?

Donnie Dunagan: As a candid man, let me share this. First, a very nice man who was gracious to my mother and me talked me through some of the words and script. But I had no clue of the storyline, had never seen a deer. At age 6, I was not jaded or ever rude to anyone, but he and my mother could tell that I was bothered by some of those unknowns, in my first voiceover. Then a wonderful lady took me and the girl that played my sweetheart [Faline] to a small room and coached us on the storyline, using a book and some drawings. My mother rushed me to a zoo, I think the LA Zoo. I saw one deer. He looked dull and lazy to me. My mother, as I remember this well, said, "Do not say anything about a lazy deer at the studio." She is a wise lady.

How much interaction did you have with the other voice actors?

Donnie Dunagan: None, to be honest. I never met the wonderful voice actors that put so much charm and laughs into all the characters of Bambi. I met a young girl one day when the storyline was being explained to me by someone from the production team, and only then did I realize that she was the cute female deer. I never met the voice of Thumper.

Film clip - Bambi gets twitterpated:


Can you tell us what it was like working at Disney in the late 1930s?

Donnie Dunagan: It was the thrill of my young life. Even for a rogue kid, the six earlier films I was in (many with co-star billing) were not as exciting as Bambi, at least for a kid that wanted to be playing baseball. When we got the casting to pitch in for Bambi, I was re-excited about being in film again....forget baseball.

How much did you deal with Walt Disney and the Disney animators?

Donnie Dunagan: Saw Walt Disney many times. He talked with me at least three sharing moments I can remember. He was interested in my being reported as reading news clips at age five.

He was a leader; all over the place, helping, coaching, laughing, and even a kid like me then could sense that he was keenly respected by the production people. That was not always the case in other studios. Mr. Disney was a Class By Himself.

What were some of your memories of working with Walt and his people?

Donnie Dunagan: Mr. Disney was a joy to be around. My sense is that the studio had not had many children on lot before doing voiceover work. They were wonderful. There was one exception, though, a single man who I called "Grump." I took a water gun shot at him one day and got in a bit of trouble. Disney still has my water gun that I was given on the set of Frankenstein Christmas of 1939. I would like to have it back.

Tell us about your specific memories of Walt Disney himself, watching him at work and how he related to you when you were a child.

Donnie Dunagan: In my prior on-camera movie roles, I came to understand the differences in crew and actors responding to the Boss coming around. Many were clearly in fear of the Boss coming in and work being done. This was not so with Mr. Disney. You could see the positive reactions, all the time - of workers, the "drawing men." All would say, "Here he comes, ask Walt, he is coming...he will know what to do, Walt is here, show him that...", etc. That is what real leaders do. He built a major company during a grim economic time in America, and the people at Disney were his family.

Do you recall any aspects of Bambi that your mother recognized as being similar to you?

Donnie Dunagan: Nothing I can recall now. But I will share with you something... the drive between our home in West Los Angeles and Disney Studios was a drag! Boring! We learned to play spelling bee in the car, each one challenging the other. I had been reading newspapers since age 5 and could spell reasonably. One time I challenged my Mom that I could spell Disney "better" than she could. I remember her response: "How can you spell anything better than the correct spelling?" "Mom, bet I can...bet you a quarter." "OK," she said, thinking me a bit silly. She then spelled it D-I-S-N-E-Y, and said, "OK, smarty, how can you spell that better for a quarter?" My spelling of Disney was "F-U-N." She smiled, laughed and gave me a quarter.

How much is Bambi like you, design-wise? Did you work with Milt Kahl on that aspect of the character? How was he as a person?

Donnie Dunagan: Boy, would I love to share with you some memory of Milt Kahl. What an honor that would be. Sorry. I do not recall any action with him.

Did you shoot any live-action reference footage for the film? Did you model for any of the animators?

Donnie Dunagan: No live-action camera involved. Initially, as the facial model, what I called "drawing men" at the time (animators) sat around as asked me to look happy, look up, look sad, etc.

Then voice work was offered. While coaches would tell me what mode or senses to say certain things, no one tried to change my age or my natural voice. Mr. Disney wanted real kids to be the kids in the forest.

How did the Disney artists manage to get you into that universe that you had only seen as static drawings? How did they inspire you to give life to your character?

Donnie Dunagan: Just to be yourself. A fun example, view the kiss scene given to Bambi by the female deer. When Bambi was sitting in a thicket feeling sorry for himself, being foolish, I was asked by the "Drawing Men" to look like something real bad had just happened to me that made me mad. I was having the time of my life then, so really I had a hard time putting on an "unhappy face." The men drawing me were waiting for me to do it better. Then one man asked me about any recent bad experience such as a spanking, bad food, etc. I told them that my Mom had given me something called castor oil last week.... it was grim. "Donnie, pretend that you just had a double dose of castor oil. And I did, my face crunched up and eyes grew mad. So when you see that cute scene in Bambi, the thicket kiss, you can call that the castor oil kiss.

What was the toughest scene for you to work on?

Donnie Dunagan: One would think that in all interviews, someone would have asked that by now. None has. First off, when working initially as the facial model, being asked to look like something grim has happened to me. Secondly, when they asked me to shout for my mother when she was in danger.

What scene in Bambi do you have the best memories of recording?

Donnie Dunagan: When Thumper was teaching me (Bambi) a word during our speech lesson like "Flower" or "Bird", I started laughing during the practice of that which slowed things down.