Jim Henson was seemingly never as busy as he was in the years leading up to his premature death from pneumonia in 1990. Henson had entered the world of television puppetry as a college student back in the mid-1950s. He experienced a breakthrough with his contributions to "Sesame Street", launched in 1969, and another when his Muppets got their own variety show in the mid-'70s. Things only grew from there, with the Muppets successfully graduating to hit feature films and then Henson getting to conceive, direct, and produce other original fantasies like The Dark Crystal and Labyrinth.

While "The Muppet Show" wrapped up in 1981, that young decade would come to find countless other Henson creations taking to television's airwaves. Everyone knows of "Fraggle Rock" (1983-87) and "Muppet Babies" (1984-91). Beyond them, there were a number of holiday specials (including The Christmas Toy) and still additional series that never achieved the longevity or fan following of Henson's best-known shows.

One of these was the somewhat dark Emmy-winning folk tale series "The Storyteller." Another was the short-lived anthology "The Jim Henson Hour", which came to host "Storyteller" segments and also gave birth to this review's subject, a DVD Lionsgate calls Jim Henson's Dog City: The Movie.

The title may not be entirely accurate, because the DVD really holds most of an episode of "Jim Henson Hour", but the distinction is important because "Dog City" would become a Fox television series in 1992. That half-hour Henson Productions show, a mix of traditional animation and Muppetry, would run through 1995, with 31 episodes produced over three seasons. This DVD's Dog City, the fourth of twelve "Jim Henson Hour" installments created (only nine of which NBC would air in 1989), is all Muppets. It would win Henson himself the Emmy for Outstanding Directing in a Variety or Music Program and garner additional nominations for lighting direction and costume design.
Dog City: The Movie is set in the 1930s in, you guessed it, a city whose citizens are anthropomorphic canines. New in town, Ace Yu shows up at The Dog House, a tough bar where patrons draw guns at suspicious pocket reaches. Ace has apparently inherited the establishment from his late uncle Harry. In his first act as owner, the pacifist former shepherd refuses to submit to a shakedown by the city's influential gangster dog Bugsy Them. The refusal does not sit well with the feared Bugsy, who, along with personal assistant Miss Belle and enforcers Scruffy, Mad Dog, and Laughing Boy, plots to make Ace pay up.
Unable to sleep, Ace steps outside, where he meets Colleen Barker, an alley-browsing singer clearly destined to be his girl. She helps him put out a house fire and inevitably becomes a bargaining chip in Them's power play. On Ace's side are two secret weapons: the pink bow he wears underneath his newsboy cap and the old lucky duck hand puppet he's rediscovered.
The special is narrated by Rowlf, the first of the regular Muppet stars and one of Henson's signature parts. Rowlf plays The Dog House's piano to cut tension, transition scenes, and punctuate revelations. He also delivers many of the show's best puns. These are often intentionally corny and charmingly delivered like many of the Muppets' sharpest witticisms. The fourth wall is frequently broken with characters shooting knowing looks at the camera. Humor also flows from reminding us we're in a dog world, where "Oh my dog!" is exclaimed and common dog commands can deter danger.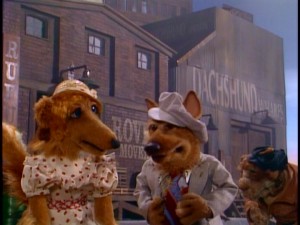 The story, setting, and style of delivery are all clearly inspired by the black & white noir and mobster films of the 1930s and '40s,

but the program possesses the broad appeal and accessibility that define few universes as strongly as that of the Muppets. Henson's winning sensibilities are all over this entertaining program, whose fine sense of humor should be easily appreciated by viewers of any age. Even though it's different from the type of TV programming they're used to, I don't see why today's kids wouldn't enjoy this. At the same time, adults don't need a young one around to justify watching this and being tickled by it.

Somehow, Lionsgate has home video distribution rights to "Jim Henson Hour" and while the logical step might be to release the 12 episodes in a multi-disc set, the studio has instead recently decided to split up the show and release programs on their own. In April, The Song of the Cloud Forest, which aired as the second half of the seventh "Henson Hour" episode, made its DVD debut joined by "other Earth stories" from "Fraggle Rock" and '90s Fox Kids program "Animal Show with Stinky and Jake." Next month, Lionsgate is releasing the special Sesame Street: 20 and Still Counting, which, while not technically part of "Henson Hour", did air in the same Friday night timeslot with comparable credits the week before the "Hour" debut.

This may not be the ideal way for fans to collect the show, but it is the only legal one. And, as far as I can tell, the show was never commercially released on VHS either, although that is the only format on which you'll find a few episodes of the later "Dog City" cartoon.

Only the Dog City parts of this "Henson Hour" episode are presented on this DVD. Henson's on-camera introduction and closing aren't preserved, nor is the MuppeTelevision pre-show bits previewing Bean Bunny's "movies" and taking you "behind the scenes" of the All Dog Network's feature presentation. The DVD's feature program runs 39 minutes and 25 seconds plus Lionsgate's closing logo.

VIDEO and AUDIO

As it should, the DVD presents this program in 1.33:1 fullscreen and stereo sound. Picture quality is good. The video is a little soft and dark, but that's to be expected of 1980s television. Clearly, either some effort has gone into making this look presentable or it has been unusually well preserved. The 2.0 soundtrack is nice. Dialogue is a little thin, but the jazzy score has a pleasing depth to it.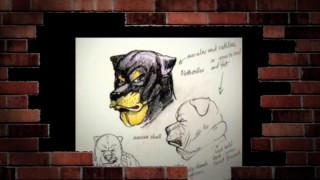 BONUS FEATURES, MENUS and PACKAGING

For bonus features, the DVD includes two automated slideshows that are brief but unexpected and appreciated. Zooming in and around ten images, "Original Movie Concept Art" (2:30) displays Bruce McNally's character sketches, a costume reference drawing by Polly Smith,

Val Strazovec's scenic designs, and a couple of Lorenzo Contessa storyboards. It could have probably done without the repeated 40-second loop of end credits score, but the explanatory note prefacing the collection is nice. "Behind the Scenes Imagery" (0:48) shows us eight photographs of Henson and his crew at work on the hot scale sets.

"Also from Lionsgate" gives us the same ads that load the disc, for Wallace & Gromit: A Matter of Loaf and Death, wretched-looking DTV Happily N'Ever After 2: Snow White Another Bite at the Apple, and Battle for Terra.

The main menu runs a montage in a brick wall gap; both the 30 seconds of clips and end credits music are looped ad nauseam. Without language options or standard scene selection, the Special Features page is the only other menu. This static, silent screen features Rowlf. While there are no inserts inside the Eco-Box keepcase, the colorful disc art features Mad Dog.
CLOSING THOUGHTS
Bursting with vitality and wit, Dog City is funny and inspired like most of Henson's creations. The DVD is a bit pricey for the skimpy contents, but I enjoyed discovering this quality program and you will too if you appreciate the Muppets' stylings.