It's getting hard to get jazzed about a new superhero movie. You rarely have to wait more than a couple of months for one to crop up and most of them merely add to an expansive and calculated franchise.

The Marvel Cinematic Universe continues to be the standard bearer with its track record of commercial and critical success. But Marvel has mostly come to rely on sequels, with the line between The Avengers and single-hero movies continuously being blurred by deep-casted crossovers. The only Marvel movies we get that aren't sequels and spin-offs are origin movies and we've seen enough of those to become acutely aware of their formulas, even if they still tend to entertain.

Doctor Strange introduces a new superhero. Stephen Strange (Benedict Cumberbatch) is a gifted and confident Manhattan neurosurgeon. He commands either respect or envy from his peers and something a little deeper from his fellow surgeon and former partner Christine Palmer (Rachel McAdams). Doctor Strange gets a rude awakening when distracted driving results in a severe car accident that requires emergency surgery to save his life. He survives, but the nerves in his hands are a mess, casting sudden doubt over his future as a surgeon.
Upon learning of one instance of someone overcoming such extreme nerve damage to live a healthy life (a brief Benjamin Bratt), Strange journeys to Nepal, the site of that miraculous rehabilitation. There in Kathmandu lies the secret compound called Kamar-Taj, where Strange begs to be taught by The Ancient One (a bald Tilda Swinton) upon being referred by her student Karl Mordo (Chiwetel Ejiofor). The Ancient One blows Strange's brilliant mind, by showing him how his astral body can be separated from his physical one. Not only do Strange's hands regain their function, but he unlocks all kinds of mystical powers he couldn't dream of.
Strange will need those powers wrangling with Kaecilius (Mads Mikkelsen), a former student of The Ancient One who has stolen spells and gone rogue. He can toy with time and fold matter, gifts that complicate life for the doctor.
The fact that it didn't breed much excitement in me helped Doctor Strange surpass expectations. It is not "just another Marvel movie", something that even the diehard fans have to be getting tired of nearly a decade after Iron Man helped define the brand. Oh sure, you still get a slightly eccentric male hero with a friend, a love interest, a mentor, and an enemy. But nothing is blandly defined as that and we don't get the sense that all these boxes have to be checked off. We also don't get the sense that Doctor Strange is being introduced merely to join the ranks of The Avengers as that series winds down, though it's been confirmed he will turn up there.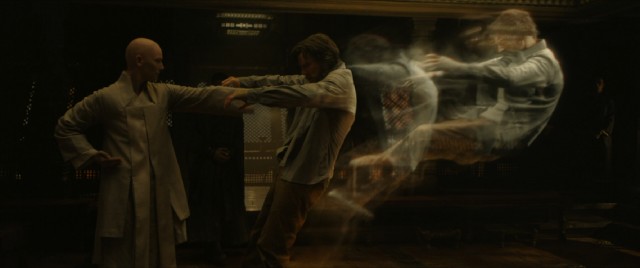 Cumberbatch is a fine actor, who seems completely at ease as a Marvel leading man and one speaking with an American accent. He brings wit to the performance, though the film's biggest laugh belongs to Kamar-Taj librarian Wong (Benedict Wong), who earns it with an unexpected laugh of his own.

McAdams, Swinton, and Mikkelsen are better actors than the movie needs for those roles, but all of them elevate the proceedings dramatically, even if this is not the type of movie they're accustomed to.

Director Scott Derrickson, also one of three credited screenwriters, comes to Marvel from a background in horror. His past films include Sinister and The Exorcism of Emily Rose. That requires less of a transition than the Russo Brothers did going from TV sitcoms to Captain America: Winter Soldier. Derrickson isn't a known enough quantity to really identify what he brings to this picture, but that seems to be Marvel's preferred method.

With less humor but no less action than other Marvel pictures, Doctor Strange may be most distinguished by its visual effects, which are often inventive and impressive. I'm not someone who raves about or even says much about visual effects, but the ones here visualizing the out-of-body experiences and matter deconstruction stimulate the senses and breathe some interest into this standard yet stately presentation. The 3D of my theatrical screening and many other exhibitions dulls the vivid colors, but does convey the depth of Rachel McAdams' cheek mole like none of her past movies has.

Of course, there are not one but two extra scenes featured within the end credits. Neither explicitly teases a specific upcoming venture, but at the same time it's clear the studio intends to bring this character back, with some more established heroes chipping in.

Origin films for previously undepicted heroes do not have the same commercial expectations of sequels and team-ups, but Doctor Strange still performed well. It grossed $233 million domestic and $677 M worldwide, numbers that compare favorably to the debuts of Captain America and Ant-Man as well as the first two Thor movies. Two days after losing the Visual Effects Oscar to The Jungle Book (I suspect it was the runner-up), Doctor Strange hit physical media. Unlike the last few Marvel films, this one was treated to commonplace customer-friendly combinations: a Blu-ray + DVD + Digital HD combo pack, the Cinematic Universe Edition reviewed here (consisting of Blu-ray 3D, Blu-ray, DVD, and Digital HD), and a standalone DVD.
Blu-ray 3D, Blu-ray & DVD Details

2.40:1 Widescreen
Blu-rays: 7.1 DTS-HD MA (English); DVD: Dolby Digital 5.1 (English)
Both: Dolby Digital 5.1 (French, Spanish), Dolby Surround 2.0 (Descriptive Video Service)
Subtitles: English for Hearing Impaired, French, Spanish
Extras Subtitled; Not Closed Captioned
Release Date: February 28, 2017
Three single-sided, dual-layered discs (2 BD-50s & 1 DVD-9)
Suggested Retail Price: $39.99
Clear Keepcase in Clear Plastic Slipcover
Also available as Blu-ray + DVD + Digital HD ($39.99 SRP), as DVD ($29.99 SRP) and on Amazon Instant Video
VIDEO and AUDIO
Whether you choose to watch it in 3D or in 2D, Doctor Strange boasts the top-notch picture and sound you expect of a big budget studio film on Blu-ray. Yes, it is kind of odd to have one of the year's most cinematic experiences unavailable on 4K Ultra HD, but Disney has typically been slow to embrace new formats, so that's not terribly surprising. Judged by the standards of 1080p, the 2.40:1 picture and 7.1 DTS-HD master audio leave nothing to be desired.
BONUS FEATURES, MENUS, PACKAGING and DESIGN

The Blu-ray 3D devotes all of its space to the feature presentation. For extras, you'll need to turn to the 2D Blu-ray disc.

First up is the chance to watch the movie preceded by a short video intro from director Scott Derrickson, who succinctly explains what the movie means for him.

If you liked that, you'll want to listen to the audio commentary, which features Derrickson flying solo again. Recorded the day before the film's LA premiere without any indication of what the public and critical response will be, Derrickson discusses getting the job amidst much competition. He also addresses at length the casting of Tilda Swinton, defending the move (and explaining how and why the character of Wong was retooled)

while acknowledging that Asian-Americans have every right to complain about whitewashing and underrepresentation in Hollywood. Engaging and thoughtful, whether discussing casting (including shifting the movie from its scheduled date to accommodate Cumberbatch) or religion, Derrickson makes this track well above average and worth listening to through the beginning of the end credits.

On the video side, making-of material is found in the featurettes section, which holds five items that you'll probably opt to watch as one coherent 58-minute, 5-second documentary. It is comprised of "A Strange Transformation" (9:42), the most general piece; "Strange Company" (12:37) celebrating Cumberbatch's supporting cast; "The Fabric of Reality" (12:32) on sets, costumes, and other technical elements; "Across Time and Space" (13:21) about fight choreography, and "The Score-sercer Supreme" (9:51) about Michael Giacchino's score (and touches upon the end credits' Thor/Dr. Strange scene). It's all substantive and reasonably involving.
A deleted and extended scenes section runs 7 minutes and 52 seconds and consists of five short sequences. They include Kaecilius quoting Scripture with a preacher and doubting his faith, a longer version of Mordo leading Strange to Kamar-Taj, Kaecilius' zealots engaging in their forehead-searing practices, and Dr. Strange healing a wounded dog.
"Marvel Studios Phase 3: Exclusive Look" (7:28) hypes the upcoming movies comprising the next phase in the MCU, including Black Panther, Guardians of the Galaxy Vol. 2, and Thor: Ragnarok.
"Team Thor: Part 2" (4:38) is an amusing highlight of the set. This mock documentary sees Thor (Chris Hemsworth) living in Australia with a roommate named Darryl. There, he learns Connect 4, hires an illegal alien as butler, and frightens school children with his stories of the Avengers. Hemsworth doesn't seem to be entirely in character, but you don't mind. There doesn't seem to be a good reason for the omission of the first of these two shorts designed to promote November's Thor: Ragnarok.
The extras conclude with a gag reel (4:12) supplying the bleeped curse and green screen shenanigans you expect of a fun Marvel production.

The same one sold on its own, the DVD doesn't include a single bonus feature. Disney has been undermining the by far most successful format in home video history for quite some time and Paramount did away with extras shortly

after their affiliation with Marvel ended. But it's still depressing to see an under-capacity movie-only disc of a movie for which many substantial extras have been produced. If you're buying this set, you're probably not still watching DVD and most likely don't have any need for it. Still, the point stands. It wouldn't have killed anybody to put the Team Thor short at least on the DVD.

The 2D Blu-ray and DVD open with a trailer for Guardians of the Galaxy Vol. 2. The menu's Sneak Peeks listing advertises the mobile games Contest of Champions and Marvel Future Fight, before repeating the Guardians trailer.

Studios rarely display a lot of creativity in packaging these days, so Marvel and Disney deserve special recognition for the inspired design they give this release. The three plainly-labeled discs occupy a clear standard-sized keepcase which is topped by a slipcover reproducing the same artwork below including a transparent section where the back of the disc shows through. The digital copy is supplied in a sealed plastic envelope. For good measure, a lenticular photo card is included in between the rears of the keepcase and the slipcover.

The main menu settles on a subtly animated room while score plays. The Blu-ray 3D renders it in 3D, meaning it will be blurry for anyone whose glasses aren't on and turned on.
CLOSING THOUGHTS
Defying expectations, Doctor Strange manages not to be just another Marvel origin movie. Sure, it is that, but it has a look and feel unique to it, hiding convention and standing entirely on its own as just a well-made and thoroughly entertaining superhero flick.
For now, anyway, Marvel's Cinematic Universe Edition represents the best way to own this film in physical media, with its flawless feature presentation complemented by a hearty supply of substantial and fun extras. The set is easy to recommend even if you're selective about the Marvel discs you buy.
Buy Doctor Strange from Amazon.com:
Cinematic Universe Edition Blu-ray 3D Combo / Blu-ray Combo / DVD / Instant Video