A movie with Steve Carell and Dane Cook -- that's got to be a comedy, right? Wrong. It makes sense that the star of the family-friendly Evan Almighty and that of the sex romp Good Luck Chuck would meet in the populous middle land of PG-13.

But the genre (light drama) and joint leading lady (Oscar winner Juliette Binoche) aren't quite what you'd expect in Dan in Real Life, the comedians' first on-screen pairing.

Carell holds the leading role of Dan Burns, an advice columnist and widowed father of three adolescent girls. Though Dan's answers to life queries are printed on a daily basis, his own family is far from a beacon of healthy relationships. He feels that his girls, ranging in age from 9 to 17, aren't yet ready for driving or dating. They disagree. The clan's trip to an annual family gathering is not made with excitement.

Said large family gathering is the site of the bulk of the film. At a bookstore near his parents' Rhode Island home, Dan meets Marie (Binoche), a pleasant lady who listens to his life story over a shared muffin. They click, or so we're meant to believe by indications of spirited conversation and time passing, and she gives him her phone number before they part ways. The next time they meet is when Dan's younger brother Mitch (Cook) introduces the family to his girlfriend, the very same woman.
That story with a twist would make for an interesting anecdote. Asked to sustain an entire film, it doesn't fare nearly as well. At the revelation that he's falling for his brother's girlfriend, Dan grows frustrated and soon visibly jealous. He makes Marie feel both of those things briefly too when he goes on a dancing date with a family acquaintance (Emily Blunt in a small role) who's far from the pig-faced charity case expected.
But the movie is in no rush to go anywhere with its set-up, beyond exploring the awkward tension born out of suppression. It doesn't want to take the easy way out and paint Mitch as a jerk who doesn't deserve Marie. It doesn't want to make its object of shared desire, Marie, someone who will cheat on a semi-serious beau. And it doesn't want to turn us against Dan, for he's our leading man and focus. And really, if it were to choose any of those paths, the movie would quickly be finished. Instead, during this unspoken love triangle standstill, we merely watch as minor episodes occupy our time.
There is a crossword competition between the sexes, a backyard football game, a family guessing game. There is a painful character performance of Pete Townshend's "Let My Love Open the Door" meant to move. Some hijinks with Dan's daughters, burnt pancakes, missed stop signs. The slightest bit of viewer thought reveals exactly where the film is going. Between the overriding predictability, commonplace diversions, and jokey situations that don't ever really land laughs, Dan doesn't have a lot going for it.
And yet, familiar and middling though it may be, the movie never sinks. Carell has already proven he's comfortable with drama and he handles this material just fine. The character, however, isn't written strongly enough to carry the proceedings and provide the intended soulful weight. We're told that Dan is a columnist and published author, but it's difficult to see anything which supports that.

His daughters are even less fleshed out, their mini-dramas being simple and not particularly memorable. Other roles are little more than set dressing, wasting the talents of such accomplished actors as 2-time Oscar winner Dianne Wiest, "Frasier" father John Mahoney, Gone Baby Gone nominee Amy Ryan, and multiple Tony winners.

More troubling than the development of personalities is the weak central relationship. As written by Pierce Gardner and "polished" by director Peter Hedges (Pieces of April), the script is designed to make us root for Dan and Marie getting together with every bone in our body. But it really doesn't give us any reason to do that. The connection they make in their chance meeting isn't shown or felt effectively. The chemistry that should underscore how right they are for each other is unconvincing as well. Romantic comedies generally have humor to fall back on and dramas have plots to pay attention to. As a tame dramedy, Dan doesn't have enough laughs or poignancy to save it for those not buying the crucial romance.

But like I said, all is not lost. In playing things safe and amiable, the movie's tone is enough to appease mainstream audiences and also those willing to think a little more highly of the film.
DVD Details

1.85:1 Anamorphic Widescreen
Dolby Digital 5.1 (English, Spanish, French)
Subtitles: English, Spanish, French;
Closed Captioned; Extras Subtitled
Release Date: March 11, 2008
Suggested Retail Price: $19.99 (Reduced from $29.99)
Single-sided, dual-layered disc (DVD-9)
Black Keepcase in Embossed Cardboard Slipcover
Also available on Blu-ray Disc
VIDEO and AUDIO
There's not a great deal to say about picture and sound quality on Dan in Real Life. Its only DVD release presents the movie in 1.85:1 anamorphic widescreen and Dolby Digital 5.1. Neither aspect presents any problems, but neither also really stands out as especially praiseworthy. Prominently featured on the soundtrack are original tunes written and performed by Norway's Sondre Lerche. They're among of the many things that the makers probably believe in more strongly than they should.
BONUS FEATURES, MENUS and PACKAGING

A fulfilling serving of bonus features begins with the 15-minute featurette "Just Like Family: The Making of Dan in Real Life", a touchy-feely look at production that sends much praise writer-director Peter Hedges' way. It also discusses steps taken to bond the on-screen family, the improv-friendly creative atmosphere, and the house used for the shoot. Plus, Steve Carell does some deadpan sarcasm.

"Handmade Music: Creating the Score" (9:45) covers Hedges' novel approach to scoring the film.

Citing The Graduate and Harold and Maude as inspirations, the director expresses his noble intentions for a single musical voice. Though the value of Sondre Lerche's well-documented work is overestimated, it's still an interesting and informative piece.

Eleven deleted scenes are offered (20:00) with optional audio commentary by writer-director Peter Hedges. He is candid and critical, acknowledging why he decided to cut each one and what he missed about them. There isn't much to miss in this mix of extensions and all-out deletions: there is more of the family talent show, a few clear attempts at humor that falter, a variety of small moments between Dan and his daughters, and a small taste of a Dan voiceover that was intended to span the entire film.
A reel of outtakes (3:20) provides mild amusement with little more than actor laughter taken out of context.
Next comes an Audio Commentary on the entire film by writer-director Peter Hedges. As in the featurettes and deleted scenes commentary, Hedges speaks openly and with passion about a project he clearly believes in. He also has lots of information to share, most of it pertaining to production and specific to what's on-screen. Anyone so inclined to give a listen should not be disappointed by all they learn from this. Among the topics discussed are the film's "overcasting", the challenges of shooting scenes with lots of characters, and revisions made.
A 1-minute Easter Egg entitled "One More?" is rather easily found from the Bonus Features menu. It provides a collection of Steve Carell outtakes, most of which find the actor asking for an additional take.
The disc opens with a lengthy promo for Disney Blu-ray, followed by trailers for WALL-E, Enchanted, and Becoming Jane. The Sneak Peeks menu holds all these plus commercials for "Ugly Betty" on ABC and The Complete First Season DVD of Lifetime's "Army Wives" (you bet I had to Google it).
The menus depict ordinary contents of a contemporary table set to melancholic score excerpts.
Dan's standard black keepcase fits into a cardboard slipcover, which recreates the artwork below with embossed flapjacks and title. Inside, one finds a scene selections list that doubles as an ad and a short-lived coupon for $10 off Dan in Real Life on Blu-ray meant to inspire a rapid upgrade.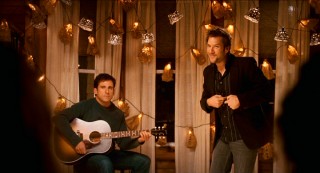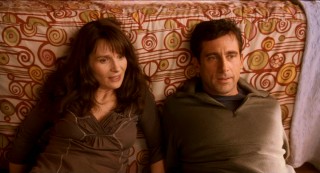 CLOSING THOUGHTS
Dan in Real Life isn't the feel-good dramedy it wants to be. It is rarely funny, not so moving, and reliant on a romantic conceit that's hard to get behind. But Peter Hedges' film means well and it's helped by Steve Carell and company making do with the material. Overall, the movie lands in mediocrity, but it is gentle and pleasant enough to give it a light push towards something better.
Touchstone's DVD grants the movie picture/sound that's adequate for such a low-key outing and pretty much all the bonus features one could want in a commentary and nearly an hour of video. If you really liked the film, then you should enjoy the DVD enough to warrant a buy. Those who haven't seen it are encouraged to rent, so long as they expect not some riotous comedy but a light, familiar jaunt with some saccharinity and heart that's covered in cheese.
More on the DVD / Buy from Amazon.com / Buy on Blu-ray Disc from Amazon.com