Look over the names of leading actors who had movies released in 1989, and you'll find that 25 years later their stature has changed.

Most, of course, have seen their profiles decline. The passage of a quarter-century has seen movie stars pass away (John Candy), retire (Rick Moranis), and, most commonly, fade with age (Billy Crystal, Kathleen Turner, and Chevy Chase, to name three of many). A fortunate few personalities have endured. Tom Hanks and Tom Cruise still carry movies on their backs, or try to. Morgan Freeman might not get to play leading man much, but he presently flourishes to an even greater degree than he did back then, when his film career was just taking off.

Behind the camera, filmmakers might not have to worry much about losing their looks and getting old, but they too experience similar rises, falls, and limited windows of creative opportunities. Many of those directing major films in 1989 continue to work, but not too many of them enjoy the same exposure and acclaim they once did. Even those who have maintained steady, respectable employment like Steven Spielberg and Ron Howard have seen their tastes and audiences evolve. Then there's Woody Allen.

Allen continues to observe and reflect the world around him. For instance, his latest film, the Academy Award-nominated Blue Jasmine, centers on the fallout from a Ponzi scheme, a concept with contemporary relevance, and acknowledges the existence of computers and online licensure. Its cast is mostly comprised of in demand actors with active bodies of work, from Oscar frontrunner Cate Blanchett to comedy icon Louis C.K. And yet, the writer-director's way of working and unique place in Hollywood don't seem to have changed at all in 25 years.

Back in 1989, Allen was a fairly modest box office draw who nonetheless garnered respect from his loyal fans and those in the business. That year saw Allen up his annual output, contributing one-third of the anthology film New York Stories (the other two supplied by Martin Scorsese and Francis Ford Coppola) in addition to applying his clockwork-like work ethic to the feature Crimes and Misdemeanors. A combination of noir and comedy, this film would pick up three Academy Award nominations, reliable no-show Allen for Director and Original Screenplay and Martin Landau for Supporting Actor (an honor he would win four years later for Ed Wood).
Despite that designation, Landau is as much of a lead as Allen and more than anyone else here. Landau plays Dr. Judah Rosenthal, a respected New York ophthalmologist and philanthropist who is lovingly introduced at an awards banquet at the film's start. Married for twenty-five years with a grown-up daughter who's about to tie the knot herself, Judah has a rich and happy life. It is on the verge of falling apart, though, when Dolores Paley (Anjelica Huston), his mistress of two years, writes his wife. Judah intercepts the letter, but Dolores isn't giving up that easy. Disheartened to see the passion of their affair flickering out and Judah unwilling to leave his family for her, Dolores is prepared to make their relationship public. She even threatens to expose Judah's moving around of philanthropic funds she defines as embezzling (and a court might too).

Desperate, Judah confides in Ben (Sam Waterston), a friend/rabbi with failing eyes and a positive outlook on life. Their discussion and Ben's advice to come clean do not sit well with Judah, who has more or less abandoned his Jewish faith and a belief in absolute morality.

The next person Judah turns to is his brother Jack (Jerry Orbach), a mob figure who knows just how to make this dilemma go away and does so for a small price and his channels. The finality of that course fills Judah with guilt and remorse, while reawakening the religious values of his childhood. A detective questions him casually about his "patient", but the eye doctor raises no more suspicion than that.

The lighter other narrative that garners nearly as much screentime and only barely intersects that story involves Clifford Stern (Allen), a documentarian with convictions who is largely unsuccessful and broke. His wife's brother, the pompous, accomplished multimillionaire television comedy producer Lester (Alan Alda), asks Cliff to direct a special about him for public television's "Creative Minds" series. Reluctantly, Cliff accepts the job, setting up a love triangle between him, his blowhard subject, and Halley Reed (Mia Farrow), the documentary series' recently-divorced producer.

His own marriage falling apart, Cliff pursues Halley, earning her interest in a documentary he's been working on about Louis Levy (real psychology professor Martin S. Bergmann), a renowned local philosophy professor. Cliff and Halley bond -- or so he thinks -- over daytime screenings of old movies and of recognizing womanizing Lester's pitiful ploys.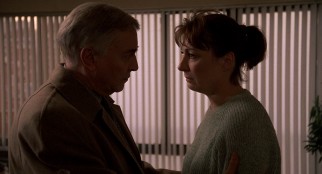 Crimes and Misdemeanors is a study of contrasts. The two affairs, the two proposed documentaries, and the two protagonists are all starkly different. In fact, so are the tones of the halves that house them. Judah's story is a hard-boiled paranoid thriller. Clifford's would-be romance is more easily identified as Woody Allen fare.

The two narratives seem at odds and should make this an uneven experience, but they don't. Perhaps having the same writer/director is enough of a filter to bind them together satisfactorily. Whatever the case, the film works, both as a dramatic exploration of guilt and morality and as a venue for Allen to broach the subject of sexual defecation and crack jokes like "Last time I was inside a woman was when I visited the Statue of Liberty."

The filmmaker regards the two narratives equally and thoughtfully, though inevitably the darker, more substantial one makes the bigger impression of the two. As in most Woody Allen films, the cast is great. Many of these actors had either worked with Allen before or would reunite with him in the future. You'd also never know or understand why this is an isolated collaboration for some, like Landau and Orbach (whose casting as siblings is inspired).

Tied with Manhattan for second place behind Annie Hall in Allen's canon by IMDb user ratings, Crimes and Misdemeanors came to Blu-ray this week from Twilight Time, a specialty label whose 2014 output has grown to include titles in MGM's vast library, which is where a good chunk of Allen's filmography (including most of his films from the early '70s through early '90s) currently lies.
Blu-ray Disc Details

1.85:1 Widescreen
1.0 DTS-HD Master Audio (English), 1.0 DTS-HD MA (Music and Effects)
Subtitles: English for Hearing Impaired
Not Closed Captioned; Extras Not Subtitled
Release Date: February 11, 2014
Single-sided, dual-layered disc (BD-50)
List Price: $29.95
Blue Keepcase
Still available on DVD ($14.98 SRP; June 5, 2001)
Previously released in The Woody Allen Collection DVD Set 2 (June 5, 2001)
VIDEO and AUDIO
My second taste of Twilight Time Blu-rays is just as satisfying as the first. The nicely and nimbly shot Crimes and Misdemeanors looks great in its 1.85:1 presentation. The picture is sharp, clean, and vibrant. Detail is great, a suitable amount of filmic grain is retained, and imperfections are minimal, consisting of little more than infrequent tiny white specks that only noticeable under close scrutiny. I'm not sure to what extent Twilight Time is involved in the mastering process, but I do know that having seen two of their discs, the quality of their output seems to rival that of restoration benchmark Criterion and the big studios.
This being a Woody Allen movie, the sound is naturally monaural by design. The 1.0 DTS-HD master audio remains crisp throughout, hiding its age quite well. White English SDH subtitles are clean and quick to appear.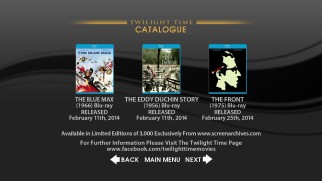 BONUS FEATURES, MENUS, PACKAGING and DESIGN

Woody Allen seems to have eased up a little on his well-known no bonus features stance, allowing Sony Pictures Classics to include red carpet interviews and press Q & As alongside his latest efforts.

Needless to say, though, nothing like that makes the cut here. Still, Twilight Time's dedication to supplements ensures we don't come away empty-handed here.

In the Set Up menu, the studio includes their signature extra, an alternate soundtrack. Though these are usually isolated scores, this one consists of both music and sound effects. In other words, you hear everything but the dialogue in this 1.0 DTS-HD master audio mix. While the odds are you haven't had any desire to watch/listen to a Woody Allen movie with the best part removed, who will bemoan having the option to do just that? I'd cherish getting such an option on my favorite film, which remains quite rare outside of Twilight Time.

In sampling it, I found this track to be predominantly silent (much of the film is unscored). When it came to life, it often did so just with music and contained no effects. Scenes with crowd chatter maintained that and in one case had that but not the diegetic music of the scene.

The slightly more exciting Special Features section holds a couple of short videos, a somewhat underwhelming MGM 90th Anniversary promo (2:06, HD) and Crimes and Misdemeanors' original theatrical trailer (1:39) in unimpressive 1.33:1 standard definition.

Finally, a Twilight Time Catalogue section gives us an overview of the company's numerous limited print DVDs and Blu-rays released over the past three years. The navigation is a little buggy, but the information, which even tells you what's coming soon and what's sold out (mostly, '80s genre fare), is most welcome. It'd be even more welcome if trailers for some of these were included, at least on a well under-capacity disc like this one.

The silent, static 16:9 top menu is nothing more than the plain poster-adapted cover art, whose image quality both there and here leave plenty to be desired. Though the disc does not support bookmarking, it does satisfyingly resume unfinished playback in fine manner.

The final extra is found inside the case: a booklet (remember those?!). The bulk of this nicely illustrated, staple-bound 8-page companion is a knowledgeable essay from Twilight Time's Julie Kirgo. It thoughtfully dissects what she calls Allen's "most Dostoyevskian work" and reveals how it was reworked after beginning post-production.
CLOSING THOUGHTS
Crimes and Misdemeanors is one of Woody Allen's darker, more serious, and better films. It defies expectations and overcomes a design that should be its undoing to thoroughly engage with its strong storytelling, big ideas, and distinctive characters.
The movie gets about as good of a Blu-ray as it could from Twilight Time, with its highly satisfying feature presentation and light but appropriate serving of extras. While it will cost you more than a typical catalog disc would in general retail, this pleasing release holds promise for Allen's MGM-owned films presently unavailable on Blu-ray. Broadway Danny Rose will follow in April.
Buy Crimes and Misdemeanors exclusively at screenarchives.com