It was already a huge leap to turn a 32-page children's picture book into a major feature film, so the existence of Cloudy with a Chance of Meatballs 2 leaves its makers looking like they're really pushing it.

Then again, with grosses of $125 million domestically and over $240 M worldwide, the original 2009 film met the threshold for success, which in the business of animated family movies usually translates to a sequel. That's the case even at the most accomplished of studios, which Sony Pictures Animation cannot yet be called. The first Cloudy was their first movie to amass nine figures in North America. Given the time and money animation requires, no one can fault the company for betting on a sure thing commercially.

Sony could have rested on its laurels and hoped that brand recognition would pay off, but instead the studio has made a sequel that fans of the first movie and those who haven't seen it can both enjoy. It took four years to see the light of day, which is on the slow side in this industry where responsive kids grow into too-cool teenagers, but Cloudy 2 is an effort the creators can take pride in.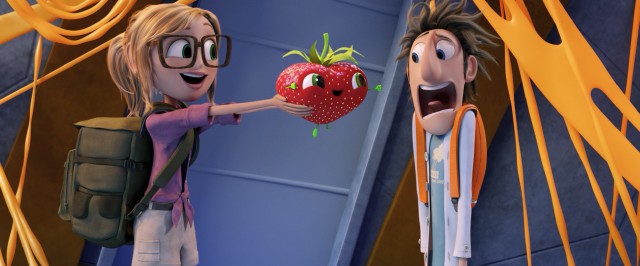 This follow-up catches you up at its opening, a wise decision given the not quite indelible nature of the original film. Flint Lockwood (voiced by Bill Hader), you'll likely remember, is an inventor, whose creation, called "the FLDSMDFR" for short, brought food precipitation to Swallow Falls. The device revived the island fishing community, made Flint a hero, and brought him and smart meteorologist Sam Sparks (Anna Faris) together.
Early on, Flint's swiftly established childhood hero, television inventor Chester V (Will Forte), visits Swallow Falls in hologram form. On orders from the United Nations, Chester announces plans for clean-up and containment of the town's out-of-control leftovers. While that is occurring, residents are evacuated and reassigned to San Franjose, California. Further derailing Flint and Sam's plans to open a lab together called Sparkswood, Flint is offered a job at Life Corp, the innovative corporation founded and run by Chester V.
There, fueled by warm sugary drinks and motivational video screens, Flint churns his gears for months, hoping to land one of Life Corp's coveted beehive-shaped vests and the title "Thinkquanaut" that comes with it. When that doesn't happen, a dejected and embarrassed Flint can't help but walk right into Chester's plan for him to return to Swallow Falls, find his invention, and deactivate it for the safety of all civilization. Pitched as a one-man mission, Flint welcomes the company of Sam, his unibrowed bait and tackle shopkeeper father Tim (James Caan), dutiful police officer Earl (Terry Crews, inexplicably replacing Mr. T), and chicken-selling man baby Brent (Andy Samberg).
They are all surprised to find that Swallow Falls has become home to an exotic assortment of "foodimals", living animals made of food. There are shrimpanzees, flamangoes, watermelophants, bananostriches, tacodiles, and an adorable semi-verbal strawberry they name Barry. While these foodimals are considered dangerous, especially the giant Cheespider (whose legs are French fries and whose webs are woven with melty cheese), the group's real threat lies elsewhere in secret plans reminding us that childhood idols don't always live up to our vision of them.
I found the original Cloudy to be nothing more or less than breezy entertainment. Had it arrived a few years earlier, it would have stood out and warranted notice. By 2009, the witty, good-natured cartoon comedy was losing its luster in the presence of more daring, original, and distinctive animated films.

The benign Cloudy was outclassed by the likes of Up, Fantastic Mr. Fox, Coraline, and The Princess and the Frog. The only Animated Feature Oscar nominee that year I'd rank beneath it was The Secret of Kells and you can't begrudge the Academy for calling much-needed attention to foreign animation they admire.

Cloudy 2 is a slight but definite improvement over its predecessor. The splendid, colorful visuals are delightful and striking. The wordplay-driven comedy is mostly good, a very few bathroom gags (securing the desirable PG rating) notwithstanding. Even the somewhat familiar story has its strengths and surprises, like the inspired notion of Mr. Lockwood befriending pickles who fish for sardines with him. None of this would have been enough to distinguish the film if Pixar and DreamWorks were on their A games and auteurs like Henry Selick, Wes Anderson or Tim Burton had inventive stop-motion alternatives for our enjoyment.

But, as it turns out, 2013 was the weakest year for animation in some time. The Oscars' Best Animated Feature category tells the story quite well. The field includes DreamWorks' mediocre The Croods, Illumination's unbearable (yet bizarrely lucrative) Despicable Me 2, a pair of foreign 'toons that hardly anyone has seen in Ernest & Celestine and The Wind Rises (a good but lesser Hayao Miyazaki film), and Disney's Frozen, an agreeable but unexceptional film whose enduring box office success is a puzzle you can probably chalk up to the present dearth of worthwhile family entertainment. The omission of Monsters University, a fine prequel by anyone but Pixar, seems like voters' response to the studio's dominance of this 12-year-old honor, which invited questioning after Brave's win last year over the more highly regarded Wreck-It Ralph.

If it was up to me, I'd gladly substitute Monsters University and Cloudy 2 for the two less deserving American nominees. The fact that I'm putting one of Pixar's weakest films on the same plane as the one I'd call Sony Pictures Animation's best to date (excluding Aardman Animations ones they've distributed) gives you a sense of how expectations and past experiences shape our judgments. If Pixar made Cloudy 2, they'd be slumming in routine entertainment and needing a return to the art that made them revered. As a Sony production, though, Cloudy 2 feels like an encouraging development, coming as it does between Smurfs sequels and a seemingly unnecessary Hotel Transylvania 2. They're not pushing the medium to new heights but they are pushing themselves, something you don't anticipate from this, a film that replaced the original writers-directors Phil Lord and Chris Miller, who moved on to 21 Jump Street and next week's The Lego Movie, with alumni of Open Season sequels.

Gaining enough in foreign markets to offset the extremely minor domestic declines, Cloudy 2 reached home video this week in a DVD, a two-disc Blu-ray combo pack, and the three-disc Blu-ray 3D Combo Pack reviewed here.
Blu-ray 3D, Blu-ray & DVD Details

2.40:1 Widescreen (DVD Anamorphic)
Blu-rays: 5.1 DTS-HD MA (English, French); DVD: Dolby Digital 5.1 (English, French);
Both: Dolby Digital 5.1 (Spanish)
Subtitles: English, English for Hearing Impaired, French, Spanish
Not Closed Captioned
Most Extras Subtitled in English; Some Extras Subtitled in Spanish
Release Date: January 28, 2014 / Suggested Retail Price: $45.99
Three single-sided, dual-layered discs (2 BD-50s & 1 DVD-9)
Thick Clear Keepcase in Lenticular Cardboard Slipcover
Also available as standalone DVD ($30.99 SRP), Blu-ray + DVD ($40.99 SRP)
and on Amazon Instant Video
VIDEO and AUDIO
Until now, Sony Pictures Animation's visuals have yet to wow me, but Cloudy 2 elevates them to the next level. It's no surprise that direct digital transfer presents the film exactly as the animators would have it. What is unexpected, though, is just how easy on the eyes this film is. The perfectly sharp 2.40:1 widescreen picture is as vibrant as any I've seen. The settings brim with color and life, making this a title capable of showing off your new HDTV. The film stops just short of the sophistication and cinematic technique of Pixar's state-of-the-art animation, but delights thoroughly in its own right.
Sight isn't the only sense treated to a feast. The 5.1 DTS-HD master audio packs just as much power and wonder. The active soundtrack envelops and engages, without ever making you reach to adjust volume levels. The average viewer may not notice either facet, but advances in visuals and sound clearly enhance the viewing experience and bear promise for SPA's future productions.
BONUS FEATURES, MENUS, PACKAGING and DESIGN

The extras begin with filmmaker audio commentary by directors Cody Cameron and Kris Pearn. They have a good time with this, dispensing screen-specific information without lulls but in a fun way. They offer a good mix of detailed technical observations and general creative process anecdotes,

giving us insight into certain choices and scenes, though they are oddly coy about acknowledging their inspirations and nods.

On the all-HD video side, we start with four new mini-movies. These short films have glimpses of full computer animation at their edges, but rely more extensively on 2D Flash Animation visuals in the name of frugality. The film's voice cast returns for these cartoons, which have their charm but were clearly produced quickly and inexpensively.

Steve's First Bath (5:02) has Flint invent a robot to bathe his monkey. Super Manny (4:22) follows the Benjamin Bratt-voiced nonchalant cameraman on his commute to work, which finds him heroically rescuing a kitty cat. In Attack of the 50 Ft. Gummi Bear! (5:58), Flint's food-modifying machine has unintended, title-foreshadowed consequences for Steve and Gummi Bear. Earl Scouts (6:39) finds Barry the strawberry and a pickle on an eventful camping trip led by the enthusiastic police officer.
Next, we get four brief deleted scenes (2:20), which might be more accurately named "deleted moments." These fully animated snippets wouldn't have added much to the runtime, but I guess they also just wouldn't have added much.
"Production Design: Back in the Kitchen" (6:50) discusses the creation of various new environments for the sequel to explore.
"Cloudy Cafe: Who's on the Menu?" (6:53) runs through the cast of new and returning characters, with input from the celebrity voice cast.
"Anatomy of a Foodimal" (6:04) turns our attention to the living foods and food-animal hybrids that populate the movie, as crew members share the logic behind them.
"Awesome End Credits" (6:09) show us what went into the imaginative end credits animation, which made use of puppets, 2D, and stop motion.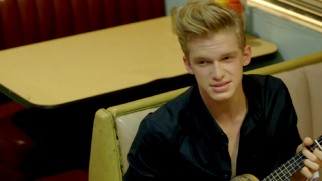 A music video for Cody Simpson's infectious end credits song "La Da Dee" (3:25) finds

the teenaged Australian singing outside and inside the Cadillac Jack's Drive-In diner in Los Angeles. Should you have questions or concerns about the video, don't miss "Making of the 'La Da Dee' Music Video" (0:59), which collects Simpson's thoughts on his soundtrack contribution and video.

"Building the Foodimals" (3:50) lets senior animation supervisor Peter Nash talk over foodimal animation tests and explain the different level of movement shown in each species.

Similarly, production designer Justin Thompson speaks over clips, elements, and concept art from the film with respect to their visuals in "Delicious Production Design" (5:11).

Finally, VFX supervisor Pete Travers comments on "The Mysterious Sasquash" (3:08), a background character hidden in scenes throughout the movie. It assumes the form of an old sci-fi movie, as we zoom in on the elusive creature in a number of its subtle sightings, with Travers narrating some facts.

The same disc sold separately, this combo pack's DVD includes all of the same bonus features except the mini-movies and the deleted scenes. I imagine the absence of the former will disappoint some of those who don't even care much for typical extras.

The discs open with an UltraViolet promo, trailers for Hotel Transylvania, The Smurfs 2, and "Angry Birds Toons: Season One, Volume One", and a pitch for the sync-able Foodimal Funimal app. The Preview section holds the same three trailers for plus ones for The Swan Princess: A Royal Family Tale and One Direction: This Is Us. The Blu-ray 3D's trailers are in 3D and include the otherwise not promoted The Pirates! Band of Misfits.

Each disc's scored, static main menu features a cast poster design. Like other Sony Blu-rays, these two support bookmarks and also give you the chance to resume playback.

Topped by a 3D lenticular-faced slipcover, the thick clear keepcase stacks the two full-color Blu-rays across from the plain silver DVD. They're joined by your Digital HD UltraViolet stream code, a coupon booklet.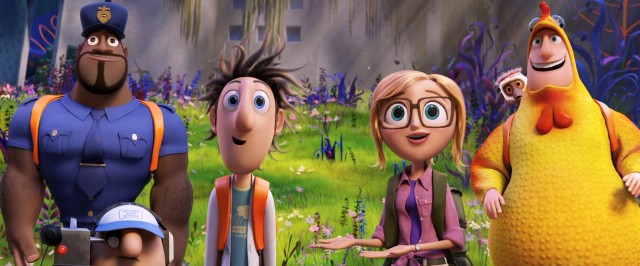 CLOSING THOUGHTS

You don't expect much from Cloudy with a Chance of Meatballs 2, but it delivers fun in spades with a vibrant, colorful,

and witty adventure holding your attention throughout. While it may not transcend the CG-animated family comedy mold, it does provide more to enjoy than its predecessor and most of its contemporaries.

Sony's Blu-ray 3D combo pack doesn't disappoint in any way. Plenty of promotional but substantial bonus material complements a breathtaking feature presentation. While it may not be something you expect your family to revisit with much frequency, it's one of the most satisfying and worthwhile releases of a 2013 animated film.

Buy Cloudy with a Chance of Meatballs 2 at Amazon.com:
Blu-ray 3D Combo / Blu-ray Combo / DVD / Instant Video