As you either already knew or subsequently discovered, the hit 2006 comedy Borat: Cultural Learnings of America for Make Benefit Glorious Nation of Kazakhstan had its roots in television. The inappropriate Eurasian traveler was one of three personas that British comedian Sacha Baron Cohen developed on Channel 4's "Da Ali G Show", which then came to New York in 2003 for two American-oriented seasons on HBO. The title character, the Staines-based wannabe gangster, had already gotten a feature film in the subpar Ali G Indahouse which went straight to DVD in the US. That made Cohen's third character,

flamboyantly gay Austrian fashion reporter Brüno, a logical subject to develop into a new movie, something Hollywood definitely wanted after Borat's $129 M domestic, $262 M worldwide earnings.

Brüno aspires to Borat's success in the same mockumentary format, relying on Cohen's improvisational talents, courage, and lack of inhibition along with the cooperation of unwitting strangers. Once again Cohen is backed by the flexible direction of Larry Charles and a pool of writers mostly carried over from Borat if not all the way from "Da Ali G Show."

Brüno's run as host of "Funkyzeit mit Brüno" comes to an abrupt end after he inadvertently storms a fashion show runway in an overbearingly adhesive Velcro outfit. Crushed, he leaves behind his short multiracial boy toy Diesel (Clifford Bańagale) and comes to Los Angeles in search of fame. After an unpromising audition with a Hollywood agent, Brüno starts taking his cues from the superstars, entertaining possible charities to bolster his PR and trading for an African baby of his own.

From appearing before a heated black talk show audience to staging a sex tape with a public figure, Brüno pursues any avenue that might get him noticed. Meanwhile, in the Azamat role, his lovestruck assistant Lutz (Gustaf Hammarsten) tries to win him over.
Brüno follows the Borat mold very closely. There are at least two major problems with that. "Da Ali G Show" was often hilarious at showing us how ordinary and famous people alike reacted to wildly awkward situations. In the feature film format, Cohen turns this concept into something more ambitious, namely a unified critique of the American public and its prejudices. His horizons briefly seem broadened when Brüno journeys to the Middle East and tries to unite the long-warring Israelis and Palestinians with a ballad and synchronized gestures. But he soon returns to America and its easy targets, surreptitiously ridiculing conservatives, Christians, and homophobes.
A much bigger problem than that is the ongoing desire to shock. Perhaps in a theater setting, widespread discomfort breeds laughter, but in the intimacy of one's home, such antics come across as a desperate substitution for wit. And this film is filled with these kinds of moments, as Cohen prances around behaving badly under his blanket of foreign fashionista innocence, making sure to show us he's wearing a thong every once in a while. An early montage establishes Brüno and Diesel's relationship with slices of their kinky sex practices. A self-made pilot episode for a talk show concludes with a swinging penis that talks. Later on, in a quest to become straight, Brüno finds his impulses at odds with the guests at a swinger party. And in a bit that seems to go on and on, he graphically pantomimes a complete episode of oral sex that a medium enables him to perform on the deceased member of Milli Vanilli.
Shocking, indecent, distasteful... Brüno is all these things, even though one enters the film expecting it to be. What it is not with any frequency is funny. The movie produced a few scattered chuckles for me in its rare bits of subtlety. If this was some unknown comedian looking to make a name for himself, I wouldn't really mind that it's not my cup of tea. But having seen every "Ali G" episode multiple times, I know for a fact that Cohen is capable of creating vastly funnier situations. Maybe the show's format doesn't translate directly to a feature, but the characters and Cohen's amazing ability to stay in them deserve such better treatment than this.
For that matter, film Brüno isn't true to his television counterpart. On HBO, the fauxhawked-character existed mainly to expose the shallowness of those involved in fashion and modeling. The film contains a few morsels of that (and the deleted scenes, several more). But more often, it relies on outrageous set-ups, with mannerisms and specific gags of Borat and Ali G recycled, this time in Austrian accent and with many more dildos. The sexual euphemisms sneaked in with mispronunciation, the persistent riling of ordinary people into rage, the occasional celebrity sighting.

Very little of it is new and almost none of it lands with even the modest success rates of Borat, an Oscar nominee for original screenplay.

Audiences are divided on the social value of Cohen's tactics. Some argue such a caricature of irresponsible homosexuality is an offense to gay people; others defend the actor, seeing his comedy as a way to break down barriers and reveal unspoken hostilities. I don't think anyone seeing the film comes away with a new understanding or appreciation. If anything, gays have much more reason to be ashamed by Brüno than Kazakhs did by Borat.

Borat was, as its title character would say, a "great success." Opening in fewer than 1,000 theaters, the little film handily defeated its big budget competition and become one of the holiday season's biggest hits. Would the same format, now understood and widely embraced, work wonders again? Universal thought so, debuting the film with a heavy marketing campaign in the middle of summer. But the world responded, "nicht nicht." Bowing at #1, Brüno made more in its first three days than the entire remainder of its short run, which ended just north of $60 M in North America, or less than half of Borat's final gross.

Hoping their summer of box office failures doesn't produce a holiday season of retail duds, Universal brings Brüno to DVD and Blu-ray next Tuesday, each a single-disc release of the theatrical cut.
DVD Details

1.85:1 Anamorphic Widescreen
Dolby Digital 5.1 (English, French, Spanish),
Dolby Surround (Descriptive Video Service)
Subtitles: English for Hearing Impaired, French, Spanish
Closed Captioned; Extras Subtitled
Release Date: November 17, 2009
Single-sided, dual-layered disc (DVD-9)
Suggested Retail Price: $19.98
Black Keepcase in Embossed Cardboard Slipcover
Also available on Blu-ray Disc
VIDEO and AUDIO
Presented in 1.85:1 anamorphic widescreen and Dolby Digital 5.1, Brüno looks and sounds as great as it can on DVD. The picture is clean, bright, sharp, and colorful, with hidden cameras only employed on Ron Paul's trap. (Although the big reveal of the Milan runway stunt is noticeably out of focus.) The basic audio largely emanates from the front, but there are a few musical selections that open things up and provide dynamic peaks.
BONUS FEATURES, MENUS and PACKAGING

Most of the "Megatolle extras!" (bonus features) offered here are unused scenes shot for the film.

We start with two alternative scenes (5:40). The first gives the Paula Abdul sit-on-a-Mexican interview treatment to baseball legend Pete Rose, while the second patches together Ron Dean-type seduction set-ups attempted on three lesser known public figures.

Ten deleted scenes (35:10) generally offer a more amusing experience than the film itself. They begin with the funny La Toya Jackson interview that was somehow cut in the few hours between Michael's death and the film's premiere and then left off all prints for this early July release.

Deleted scene Bruno & La Toya Jackson:


That's followed by various bits in which fashion industry figures, a party planner, and an interior decorator need little goading to make themselves look ridiculous. On some of the bits -- Brüno's research trip to an NBC news unit, his teary on-field interview of two Arena Football League players, and a gagged chat with a scientist via laptop MacInTalk -- you suspect the people recognize Cohen and just play along anyway. On a more convincing one, you even manage to feel bad for a white supremacist. It's unfortunate no commentary accompanies these, because it's hard to understand why the better bits here were lost in favor of the film's weak ones. (I guess they're more shocking!)

There is some mild amusement to be had in seven extended scenes (18:41), which show us longer cuts of the unfit parents of would-be showbiz babies, the talent agent, the swingers party, the disastrous focus group, a secondary gay converter, and the musician-filled charity song finale, plus a second attempt at a gay marriage.
More interesting, "An Interview with Lloyd Robinson" (5:30) catches up with the old Hollywood agent Bruno tries to impress. He explains how he didn't know what he was a part of until spotting a large Hollywood billboard advertising the film.

Last but not least is a feature not even listed on the case. It is an enhanced audio commentary by Sacha Baron Cohen and director Larry Charles, noteworthy because Cohen rarely steps out of character. Doing so here, he and Charles answer the questions that arise during viewing, like who is in on the joke (Harrison Ford and NBC) and who isn't (most everyone else), plus how certain big stunts ("Medium" and Milan) were achieved.

The two discuss filming experiences around the globe (Cohen details his Milan arrest), the prospect of the star getting recognized, and the various battles they had with the MPAA to secure an R rating. Besides further criticizing their lampooned subjects, they vehemently defend their brand of satire and all their controversial actions, from keeping penis footage in to going after Ron Paul.

This supplement runs 1 hour and 48 minutes, over 26 minutes longer than the film itself. Accounting for that discrepancy, the movie is paused at times and picture-in-picture sometimes comes up with alternate takes, unused bits, and behind-the-scenes photos. That allows them the opportunity to extend the screen-specific chatting beyond the film's short runtime, which is appreciated, since the movie very much lends itself to just such a commentary. Enhanced video commentary can clearly be achieved on DVD and fluidly. Now, if only a better film would see fit to offer it...

The disc opens with promos for American Pie Presents: The Book of Love, Funny People, Blu-ray, Public Enemies, Battlestar Galactica: The Plan, and Smokin' Aces 2: Unrated.

The predominantly white menus display their listings in a pseudo German language which is translated with clunky movement of the cursor. Save for the animated, musical transitions, the screens are static and silent. There are no inserts inside the slipcovered keepcase.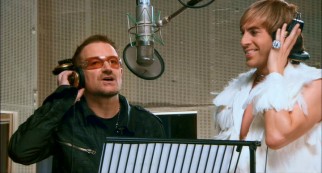 CLOSING THOUGHTS
Brüno squanders anything interesting or amusing about Sacha Baron Cohen's least "Ali G" creation. Wit is absent and laughs mostly are too as the comedian opts for a parade of obscene episodes, each designed to offend unwitting film subjects and shock viewers into amusement. Even the most bigoted target tends to earn our sympathy as the butt of tired jokes. The movie is more painful and feels far longer than its short 80-minute runtime should allow.
Though the film is an absolute nonstarter, Universal's DVD softens the blow with nearly an hour of deletions that quite often surpass the feature in quality (not that it's a tall order) and a couple of earnest making-of bonuses. If you enjoyed the movie and anticipate rewatching it, this may be worth your time. Otherwise, skip this and get your hands on the "Da Ali G Show" instead. It's amazing how much cleverer and funnier Cohen's personas were on television, when he was basically unknown and out to entertain instead of merely appall.
More on the DVD / Buy from Amazon.com / Buy on Blu-ray from Amazon.com