Beverly Hills Chihuahua did not fare well with critics. It earned a rotten 40% at Rotten Tomatoes and 41/100 at Metacritic. It was even more coldly received by viewers who frequent the Internet's leading film authority; the IMDb user rating is a lowly 3.5/10. To Disney, there were numbers much more meaningful than these. Like the fact that the 2008 movie, made for a reported $20 million, grossed $94.5 M stateside and $150 M worldwide, before going on to sell 4.1 million copies on home video.

Beverly Hills Chihuahua 2 film clip - "Mud slide":


Not that Disney needed to learn the commercial value of talking dog movies; the Air Bud franchise has sold over 20 million units over the years, becoming a particularly potent retail franchise when it came to focus on the "Buddies" talking pups. Clearly, that video empire stands as a financially successful model for Beverly Hills Chihuahua 2 to aspire to as it debuts this week on DVD and Blu-ray combo pack.

Once a thriving source of revenue, the direct-to-video sequel has fallen out of favor at Disney, a development associated with John Lasseter's promotion to the Animation Studios' chief creative officer. That we aren't seeing fourth movies of The Little Mermaid, The Lion King, and the like is not the product of slipping sales but an apparent concession towards concerns of brand dilution. Lasseter's jurisdiction seemingly stops short of the kind of facial animation that pervades those countless Buddies movies and now Chihuahua 2. Even if it didn't, would brand dilution be a genuine issue on a series whose profitability exceeded its artistry from the start?
Chihuahua 2 opens with a church wedding. Get this, though: it's not romantically linked human leads Rachel Ashe (Erin Cahill, taking over from Piper Perabo) and Sam Cortez (Marcus Coloma, replacing Manolo Cardona) who are tying the knot. It's their Chihuahuas, pampered white pooch Chloe (now voiced by Odette Yustman, formerly Drew Barrymore) and brown working class Papi (George Lopez, the only returning cast member). It's only right; Disney couldn't have illegitimate puppies running around, and without puppies, there is no Beverly Hills Chihuahua 2. Coincidentally, Papi and Chloe produce five children, just like Bud and Molly. Though the young Chihuahuas match the Buddies in number, they are nowhere near as bold (or grating) in personality. Besides Papi Jr. (voiced by Santa Buddies/Paws veteran Zachary Gordon), the offspring don't make much of an individual impression, instead forming a playful group dynamic.

While Rachel and her rich Aunt Viv (Susan Blakely, assuming Jamie Lee Curtis' role) are down in the rainforest for six months of searching for rare, potentially disease-curing plants, Sam is back in California watching over all those dogs. He takes the lot to his parents' house, i.e. Papi's old home, where some bad news is received. It turns out the bills have piled up for Mom and Dad (Castulo Guerra and Lupe Ontiveros). If they can't come up with $40,000 in the next few weeks, the bank is going to have to foreclose on their beloved home.

The parents will have to move into a tiny apartment with relatives all the way in Arizona. Who will save the Cortez family? (Besides the obvious; they are too proud to ask Rachel and Viv for help.)

The Buddies, er, Chihuahua pups think they've got a solution; now joined by Papi's scary old housemate Pedro (Ghostbusters' Ernie Hudson) and Delgado (Miguel Ferrer, replacing Andy Garcia), the police German Shepherd visiting from Mexico, all enter a dog show, whose cash prize is a cool $50,000. At 84 minutes, though, this is truly a feature-length follow-up and thus the contest can't be the quick fix that it could be on a self-contained sitcom episode.

To meet the mark, other threads are introduced regarding Delgado and his two sons now working for the LAPD's K-9 Unit. Those boys, who have not yet made peace with the father who abandoned them, are summoned for a climactic crime scene in which the Chihuahuas also figure. I smell a happy ending!
While Chihuahua 2 has little to live up to, it doesn't reach the very modest heights of its predecessor. That movie wasn't quite as bad as its offensive (and misleading) marketing made it look. But even its supporters wouldn't be able to, in good faith, call it any more than a harmless diversion, appropriate for kids who can appreciate dogs talking. This sequel doesn't set its sights any higher, but its storyline lacks even the minimal thought and maturity of the first film, resorting to tried-and-true Buddies-style hijinks more than once. In execution, this also takes a dive in polish and credibility (again, elements that the original movie was not full of). Going straight to video, BHC2 won't be subject to the type of large group scrutiny that even the most unassuming theatrical fare receives from the ticket and food costs of a family outing. The movie knows this and doesn't try any harder than it needs to, running with weak visual effects and unconvincing line delivery that can't be lamented until a kid request or thoughtful parent has resulted in a purchase or rental. Even then, such liabilities could easily go unnoticed.
Beverly Hills Chihuahua 2 is directed by Alex Zamm, who helmed one of my favorite products of the late-'90s "Wonderful World of Disney" revival, the Will Friedle-Elisabeth Harnois comedy My Date with the President's Daughter. That kind of cheesy but charming fun should have led to better things, but today it stands out as one of the only respectable credits in a sporadic filmography that consists largely of direct-to-video fare, like Dr. Dolittle: Million Dollar Mutts and Inspector Gadget 2.
The leads of the latter Disney sequel, French Stewart and Elaine Hendrix, are also among the handful of recognizable faces seen in Chihuahua 2. I think a good rule of thumb is if you're watching Beverly Hills Chihuahua 2 on the week it comes out and recognize any of the actors, those actors must then deserve your sympathy. Not that they had to really labor or be demeaned on what was surely a brisk, painless shoot, but hopefully the paychecks were large enough and other opportunities genuinely sparse enough for them to endure having this credit forever attached to their life's work. Other actors to pity for appearing in the flesh here are Rance Howard (the father of Ron plays the opening officiator), Morgan Fairchild, "Step by Step" star Christine Lakin, and, Tipton employees from "The Suite Life of Zack and Cody", Brian Stepanek and Phill Lewis.
There isn't a great deal else to talk about here. The failures of movies that begin production never intending to reach theaters are rarely grand and glaring. There is simply an air of frugality felt throughout. One thing that ticked me off more than the expected lack of class and wit was the movie's pleas for sympathy. The bank (and specifically, Stepanek's cat-preferring banker) are supposed to be villains because they're conducting business exactly as the Cortez family's mortgage said they would? That hardly seems to warrant peeing on official documents. Then (spoiler warning!), Papi gets disqualified from the competition because he's not a documented purebred and that's supposed to seem unfair. The questionable message for kids seems to be that rules are made to be broken.
I guess if living beyond your means is something to strive for, then the $15 Beverly Hills Chihuahua 2 DVD won't cut it; you've got to go for that $20 Blu-ray + DVD combo.
VIDEO and AUDIO
While there are plenty of unkind things to be said about the movie, nary a disparaging word can be applied to the DVD's presentation. It is immaculately clean, satisfyingly sharp, and appropriately colorful. In short, it's everything that a new film transfer should be. The Dolby Digital 5.1 soundtrack is adequately lively and also without fault, supplying fitting atmosphere, occasional directionality, and perfect clarity. I still don't have a Blu-ray player, so I can only imagine what the format's higher picture resolution and lower sound compression would do for the movie.
BONUS FEATURES, MENUS and PACKAGING

Just two genuine bonus features accompany the movie on DVD. First up is a music video for Bridgit Mendler's opening and closing song "This Is My Paradise" (2:37).

The "Good Luck Charlie" star, repeat DVD music video singer, and voice of uppity French poodle Appoline performs out of a van at the beach among clips and photos from the movie.

"Blooper Faux Paws" (3:23) offers puppy improvisation, human and canine error, and just general antics. It upholds the correlation between the entertainment value of a movie and its outtakes (i.e. there's not much to see here).

A sneak peek for Sharpay's Fabulous Adventure (2:09) shows clips from Disney's next direct-to-video movie, with Ashley Tisdale telling us about this High School Musical spin-off (which is coming a bit sooner than she says it is). The DVD also includes Disney's long-standard promotional shorts "Dylan & Cole Sprouse: Blu-ray is Suite" (4:45) and "Learn How to Take Your Favorite Movies on the Go" (1:02) promoting not-so-new technology.

Available only on the Blu-ray platter of the combo pack is "Beverly Hills Chihuahua Challenge", an interactive game show hosted by Papi. It sure sounds like something that never could have fit or been offered on standard DVD. (Not!)

The FastPlay-enhanced DVD opens with ads for Disney Blu-ray/Blu-ray 3D, Bambi: Diamond Edition, Cars 2, and Tangled. The menu's "Sneak Peeks" listing replays those same promos, followed by the post-feature ones for Disney Movie Rewards, The Lion King: Diamond Edition, "Phineas and Ferb": Across the 2nd Dimension, Sharpay's Fabulous Adventure (the same as the bonus feature), Secretariat, The Incredibles Blu-ray, Spooky Buddies: The Curse of the Howlloween Hound, Dumbo: 70th Anniversary Edition, and Beauty and the Beast: Belle's Magical World: Special Edition.

The DVD's main menu plays a montage in the exciting environment of the dog show runway. The other menus are static but scored.

The 2-disc combo is packaged in a standard slim Blu-ray case and topped by an embossed cardboard whose border, bling, and front/rear background are eye-catchingly holographic. Inside, booklets promote Disney Movie Rewards (with a code and a BHC2 plush offer), Blu-ray 3D and combo packs, and a number of upcoming titles.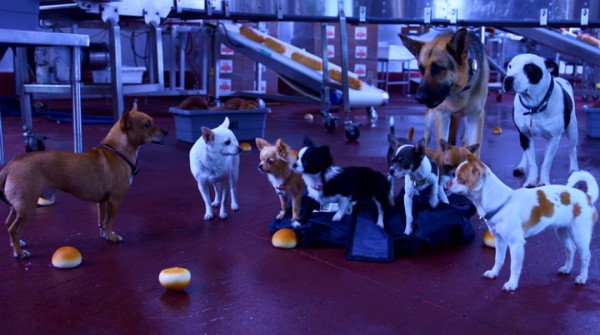 CLOSING THOUGHTS
Unless you liked Beverly Hills Chihuahua so much that you'd enjoy an inferior outing in the same vein, I can't see this sequel leaving you satisfied. That said, no one should be terribly disappointed by Chihuahua 2. Between the original movie and the Buddies franchise, you should know exactly what to expect. It isn't much, but for some parents and young children, any talking dog comedy will suffice. Also meeting expectations, the DVD's feature presentation is excellent while the two bonus features, a far cry from Inspector Gadget 2's mother lode, are barely worth mentioning.
More on the Blu-ray + DVD Combo / Buy from Amazon.com / Buy on DVD from Amazon.com