For nearly twenty years during Hollywood's Golden Age, cinema had one Bergman renowned around the globe. It was actress Ingrid Bergman, who had come to Los Angeles in 1939 to remake one of her Swedish films in English for producer David O. Selznick.

Though Bergman had a weak grasp of English, she would learn the language and stay awhile, soon earning a place in film history as the leading lady of Casablanca, then long enjoying movie star status in a trio of Alfred Hitchcock thrillers and an assortment of other acclaimed films, including two that won her the Oscar for Best Actress.

Meanwhile, back in her native Sweden, another Bergman emerged: Ingmar Bergman, a writer-director whose films gained international attention by the 1950s. No relation to the actress (though his fifth and final wife would come to share her name), the filmmaker commanded respect for his distinctive human dramas. While Ingrid got around, making films in the UK, France, and Italy, Ingmar stayed put, writing and directing Swedish language films too good for the rest of the world to ignore. Their paths finally crossed in the late 1970s, when they teamed up to make Höstsonaten, better known as Autumn Sonata, a drama that would become the actress' final theatrical credit in any language.
A human drama with a narrow focus, Autumn Sonata tells the story of a mother who decides to visit her daughter after years of estrangement. The mother is Charlotte (Ingrid Bergman), a glamorous, worldly and recently widowed concert pianist. The daughter is Eva (Liv Ullmann), a plain, bespectacled redhead, who is very excited and a bit nervous to see her mother for the first time in seven years. Eva's husband, the loving, sensible, pipe-smoking Viktor (Halvar Björk) keeps a distance. This is a good idea.
Having made the long trip, Charlotte is expected to stick around for some time in the couple's spacious country home. But shortly after hugs and exchanged pleasantries, old tensions and deep-seated animosity begin creeping out. Discomfort starts after mother and daughter compare their interpretations of a Chopin prelude, with Eva not appreciating Charlotte's feedback. Turns out the grown-up girl, still craving acceptance, has been harboring resentments towards her mother her entire life and she is about to spontaneously air a lifetime's worth of grievances.
Some of them involve Helena (Lena Nyman), Eva's once-institutionalized, severely disabled younger sister, who has spent the past two years living with her and Viktor. Blindsided and discomforted by that revelation, the insomniac Charlotte already begins plotting her exit. But she's not getting anywhere until Eva is able to discover, voice, and make sense of the hatred she's held for this woman who spent so much of her childhood busy or away.
Both women reflect on the past, disclosing their distant perspectives on shared experiences, like the summer when the accomplished Charlotte gave up her career ostensibly to spend time with her family, only to drive Eva crazy with her heightened scrutiny.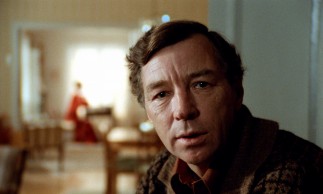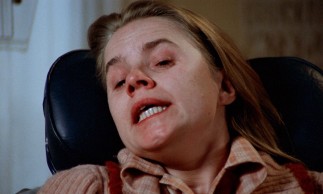 The film primarily serves as a stage for an outpouring of emotion and confessions from the two women who have always devoted a disproportionate amount of thought to the other's needs. It's kind of a verbal bloodbath, full of brutal jabs and closet skeletons. And it's an absolutely arresting and involving exploration

of an unbreakable bond that is clearly capable of extraordinary anguish.

Nearly the entire film plays out within the walls of Eva's house, which we leave only for the occasional telling childhood flashback. This one-sided assault unfolds without premeditation, as Eva spills a wealth of secret hostilities and sordid accusations. For her part, Charlotte is genuinely surprised and at a loss to defend her lifetime of abandonments, most of which seem the result of her putting her craft first.

The writer-director needn't inject much style to give this family melodrama resonance, bite, and utter captivation. His compositions, many of them close-ups, are striking and purposeful, while the house has character and presence. Ms. Bergman, 62 during filming, was not accustomed to playing such a role, nor would any actress of her stature be. She excels in the part, allowing you to sympathize with her despite her traumatizing history of misplaced priorities and unintentional neglect. Both Bergmans and Ullmann (one of the director's extramarital affairs and the mother of his youngest child) get to the heart of repressed sentiments and parent-induced scars with intelligence, passion, and, most of all, humanity. Though it centers on two strong female characters, this is a film full of meaning for everyone who's ever been a parent or child. It's compelling cinema from one of the art form's masters and it stands as the penultimate high mark in Mr. Bergman's long, distinguished career.

Autumn Sonata became the rare non-English film to compete for Oscars outside of Best Foreign Language Film. For some reason, the film was not submitted in that category, possibly because no country had a clear claim to it, being shot in Norway, produced by Bergman's West German company, financed by the UK, and premiering in Sweden, where the director was then fighting tax evasion charges. Instead, Autumn Sonata earned both Bergmans an Academy Award nomination, Ingrid taking her seventh and final acting nod (sixth for Leading Role) and Ingmar getting his fourth of five Best Original Screenplay nominations. Each lost, to Jane Fonda and her film, Coming Home.

Having to settle for the Golden Globes' Best Foreign Film honor and a number of different critics and international awards, Autumn Sonata nonetheless remains among the most highly regarded films by either Bergman or any international filmmaker. Having been treated to a Criterion Collection laserdisc in the 1990s and a DVD back in January of 2000, Autumn Sonata hit Blu-ray this week and a new 2-disc DVD, each retaining the original DVD's spine number of 60.
Blu-ray Disc Details

1.66:1 Widescreen
1.0 LPCM (Swedish), Dolby Digital 1.0 (English)
Subtitles: English
Not Closed Captioned; Swedish Extras Subtitled in English
Release Date: September 17, 2013
Single-sided, dual-layered disc (BD-50)
Suggested Retail Price: $39.95
Clear Keepcase
Also available as 2-Disc Criterion DVD ($29.95 SRP)
Previously released as 1-Disc Criterion Collection DVD ($39.95 SRP; January 18, 2000)
VIDEO and AUDIO
Presented in its original 1.66:1 aspect ratio, Autumn Sonata sports beautiful picture quality on Blu-ray. Although very light and infrequent flicker keeping things filmic, the transfer's vivid colors and sharp, pristine, detailed element make it tough to believe that this is a 35-year-old European film.
The default soundtrack is an uncompressed monaural Swedish mix. It's accompanied by clean white English subtitles. There's also a Dolby 1.0 English dub option, an evidently historical mix that uses the original cast. Somehow, the disc is even authored so that the English subs disappear when you switch over to the dub. Criterion should really offer a Blu-ray Disc authoring course to the other studios who haven't mastered the art as well.
BONUS FEATURES, MENUS, PACKAGING and DESIGN

Autumn Sonata's original 2000 Criterion DVD contained just two bonus features: a commentary and a trailer. Those have been joined by a number of additional extras, which from the menu's listings make this look like a typical Criterion effort:

substantial but not overflowing. In reality, you're likely to be blown away by this over six-hour collection of bonuses.

First up comes an audio commentary by Peter Cowie, who lives up to his title of "Ingmar Bergman expert." Cowie speaks knowledgeably, engagingly, and screen-specifically over the entire film, discussing production clashes, the careers of every prominent contributor, the director's objection to Chekhov comparisons, Bergman's tax evasion charges, and the film's themes and relationships. It's an enriching listen.

On the video side, where everything is encoded in HD but most of it not able to take advantage of the full resolution, things kick off with an introduction to the film by Ingmar Bergman (7:52), taken from the same 2003 Swedish television interview by Marie Nyreröd that other Criterion Bergman releases have excerpted. In this one, the director speaks of making good on his promise to work with Sweden's other famous Bergman and initially finding it difficult to do so.

"The Making of Autumn Sonata" is the set's big surprise, for it runs a staggering 3 hours, 26 minutes, and 33 seconds, making it by far the longest bonus feature I've ever encountered. Arne Carlsson chronologically documents the film's creation from its very first meeting through production. We've never before gotten such close and unlimited access to a classic's making, from table read collaboration and rehearsals to the make-up chair and costume tests to filming and on-set problem solving to wrapping and some press Q & A. Though you probably won't get through this in one sitting, you'll be more compelled to finish this than you'd think, given the huge time investment required. I can't think of anything comparable to these preserved interactions between a legendary director and actors. Imagine getting this on your all-time favorite movie!
"Liv Ullmann on Autumn Sonata" (18:54) is a brand new English language interview, in which the Norwegian actress reflects on her professional and personal relationships with Ingmar Bergman and on the film's themes and characters. Her comments are complemented by behind-the-scenes footage and stills and the occasional film clip. It's a valuable addition.
"Ingrid Bergman at the National Film Theatre" (39:24) is a great English language interview conducted by The Guardian's John Russell Taylor in 1981, the year before the actress' death from breast cancer. Speaking in front of a large audience, with the occasional pertinent film excerpt, she discusses starting in Sweden, coming to Hollywood, learning English, acting in five languages, her Hitchcock films, Casablanca, and the great directors she's worked with. She also devotes several minutes to talking about the then fairly recent Autumn Sonata and acting in Swedish again for the other Bergman. The audience asks about her co-stars, her autobiography, and the real-life parallels of Autumn.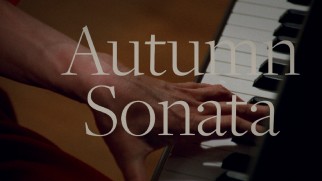 On-disc extras conclude with an Autumn Sonata trailer (2:30).

The menu sets predominantly clips (predominantly Eva's childhood flashbacks) to one of the Chopin preludes. Of course, the disc resumes playback of all things

(invaluable for that epic making-of doc) in addition to letting you set bookmarks on the film.

Autumn Sonata is packaged in one of Criterion's standard clear keepcases, the height of a Blu-ray case and the width of a DVD one. Its artistic renderings of images from the film extend to the obligatory booklet, accompanying "Mothers, Daughters, and Monsters" by blogger and New York Post writer Farran Smith Nehme. This illuminating essay places the film into the context of the director's career, pointing out the film's parallels to the real life baggage of the stars and director, and comparing the content to other Hollywood bad mother movies.
CLOSING THOUGHTS
It's remarkably easy and never too late to become a fan of Ingmar Bergman. The work of Sweden's most exalted filmmaker is remarkably accessible and moving. Unsurprisingly, this 94-minute 1970s film starring Hollywood movie star Ingrid Bergman is not at all difficult to fall for. The tensions between an estranged mother and daughter make for powerful and universally gripping cinema you'll be glad to return to.
Criterion's feature presentation is even more delightful than you might think possible. Wielding over six hours of extras, including perhaps the most extensive behind-the-scenes documentary ever assembled, the Blu-ray won't leave anyone wanting more supplementally. This is certainly among the most substantial and commendable discs of 2013 to date.
Support this site and classic cinema when you buy Autumn Sonata now from Amazon.com: Criterion Blu-ray / Criterion DVD